WDIV-TV Highlights Historic Detroit Station WGPR-FM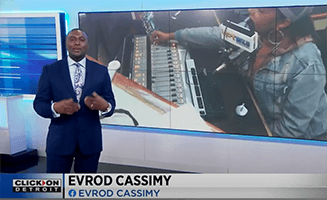 As part of its coverage of National Black Business Month, on August 24, WDIV-TV (Detroit) Reporter/Anchor Evrod Cassimy took a look inside the city's historic WGPR-FM.  As Detroit's first Black-owned Detroit radio station, WGPR is still thriving today.
The station is owned and operated by the International Free and Accepted Modern Masons, after being purchased from the previous owners in Grosse Pointe in 1964, according to the station's manager Kenneth Hollowell. The call letters originally stood for "Grosse Point Radio," but following the purchase, were changed to mean "Where God's Presence Radiates" — derived from their broadcast format at that time, which was focused on the Black church.
The station currently aired a Hop-Hop music format.  Take a closer look inside the station in the video report below: