McKibbin Media Teams Up For Community Food & Coat Drive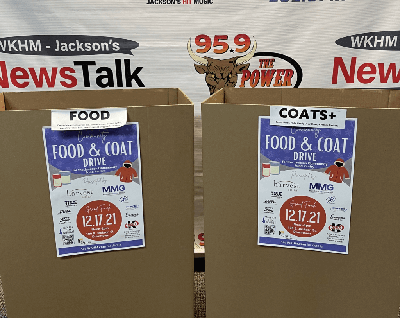 McKibbin Media Group (Jackson) has partnered with Harvest Solar and many Jackson area businesses to organize an initiative to collect much-needed food and supplies for the Jackson Community Food Pantry this holiday season. Donations for this are needed.
"We encourage the local Jackson community to support this Community Food & Coat Drive and help others in need this holiday season," McKibbin Media Group General Manager Dennis Worden said. "We've had many donations since November, but we are still actively seeking more to help with the shortage of these needs. It's more important than ever we help others during the winter months and make sure no one goes hungry or cold this season."
The Jackson Community Food Pantry says the following food items go the furthest to those who need them: canned stew, chili, ravioli, chicken, and tuna; peanut butter; granola or protein bars; cereal; and canned vegetables or soup. They also make excellent use of new or used coats for adults and children, gloves and hats, gently used shoes and fleece blankets.
The Jackson Community Food Pantry provides food and resources to those in the Jackson area who have been financially impacted by unemployment, divorce, disability, health, domestic violence, homelessness, disaster, aging and rising cost of living.
On December 17 from Noon until 2 p.m., McKibbin Media Group and Harvest Solar will host a "Grand Finale" event in the parking lot at 100 S. Jackson St. in downtown Jackson to compile all the donations for the Jackson Community Food Pantry, with K105.3 (WKHM-FM) broadcasting live on location.
Anyone who drops off a donation during this time may enter their name in the running to win a Bluetooth speaker and home projector from K105.3, and there will be free cider and donuts while supplies last.