Record Amount Raised At WJR SAY Detroit 10th Annual Radiothon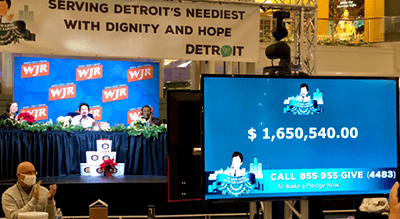 On December 9, Cumulus Media's WJR-AM (Detroit) presented its 10th Annual SAY Detroit Radiothon, hosted by Mitch Albom. The live broadcast originated from the Somerset Collection in Troy. The 15-hour event (6 a.m. – 9 p.m.) gathered a record $1,650,540 through donations, auctioned items and purchased autographed memorabilia. All proceeds went directly to charity — not even administrative costs came out of the total.  Last year, the radiothon raised a then-record $1.52 million.
Platinum Equity Founder and Detroit Pistons Owner Tom Gores was among the donors, who announced a $350,000 commitment to SAY Detroit, with $100,000 earmarked to help create an entrepreneurial youth program at the SAY Detroit Play Center.
"I want them to be able to build a business product in an entrepreneurial program we could put together in the summer," said Gores. "I'm willing to fund the kids' idea – whatever it is. Hopefully they're able to make a profit and those profits can go right back to the center."
Other donors and special guests included actors Tim Allen, Hugh Jackman, Lily Tomlin, Hank Azaria, and Bradley Whitford; local music legend Alice Cooper, Former Detroit Mayor and Detroit Piston Dave Bing, Current Mayor Mike Duggan, Former Lions Quarterback Matthew Stafford; and media personalities, including Tony Kornheiser, Katie Couric, and Anderson Cooper.
"We are all stunned and humbled at this extraordinary generosity from the people of Detroit, and Michigan, and the many generous donors around the country," said Albom following the conclusion of the Radiothon. "It's been 10 incredible radiothons and to surpass the $10 million mark is something we never could've dreamed of, when we began with a handful of guests and an idea back in 2012. This will take me at least a week to absorb! But we want to thank everybody so much and assure them that this money will go to the best use — making lives better for those who need help here in our city."
SAY Detroit, founded by Albom, is a nonprofit organization that funds programs like the SAY Detroit Family Health Clinic, the SAY Detroit Play Center, Working Homes/Working Families, the Dream Scholars, A Time to Help, and several other local charitable efforts