WDET Teams Up with MSU with new Podcast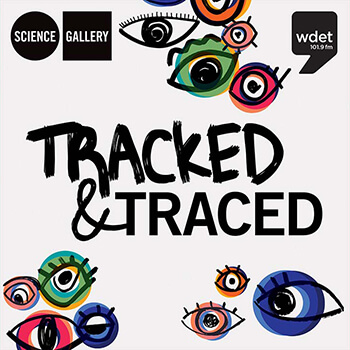 WDET-FM (Detroit) has teamed up with Michigan State University's Science Gallery to present a 10-episode podcast series titled "Tracked and Traced."  The series is named after the science gallery's 10 week exhibit, which also explored themes of surveillance.  New episodes released every other week, starting early 2022.
Hosted by Natasha T Miller and Antajuan Scott and featuring original reporting from WDET, this 10-episode series will explore the ways surveillance technology are integrated into our everyday lives, and the price we pay for safety, security and convenience.
Episode topics will include:
The creation of the Patriot Act and Terrorist Watch List after the 9/11 attacks
Project Greenlight in Detroit
ShotSpotter audio surveillance
Police intelligence infrastructure
Video surveillance in schools
The risks of going viral
Profits and privacy
Drones and wildfire surveillance
Foster system databases in the U.S.
Street-level video surveillance
Tracked and Traced is the second podcast collaboration between WDET and MSU's Science Gallery. The 10-episode series Science of Grief invited young adults to share their own stories of grief, and invited mental health professionals to offer tips and takeaways for listeners. Science of Grief is available wherever you get your podcasts.
Support for Tracked and Traced comes from the Pulitzer Center, MSU Federal Credit Union and the Community Foundation for Southeast Michigan (CFSEM).