MAB Delivers Access to Broadcasters at the State Capitol; Opportunity to Weigh on FOIA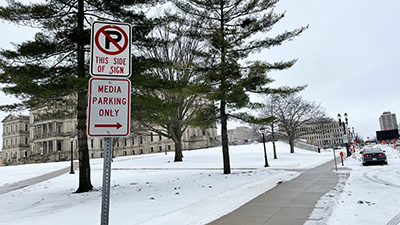 Providing access is a key mission of the Michigan Association of Broadcasters. This week, the MAB is proud to have fought for and won an issue that is important to our members who cover activities at the state Capitol. Last week, media parking spots were removed on Ottawa St. near the Capitol building. Those were important to stations that are often carrying large, heavy equipment into the Capitol to cover state government issues.
The MAB worked swiftly with the Lansing Parking Services Office to raise awareness about the importance of these spots which were restored within two business days.
"When we got word that the media parking spots at the Capitol were disappearing, we immediately reached out to Sam and the MAB. They got right on it – and within a couple of days, those spaces were restored," said Jam Sardar, News Director of WLNS-TV and WLAJ-TV. "Those spaces are important to the people who do the important job of covering the Capitol for the people of Michigan and the MAB was important for making sure we got to keep them. Many thanks for their quick action and resolution!"
Another note related to access, the Michigan Law Revision Commission is reviewing the state's Freedom of Information Act and Open Meetings Act to determine whether updates are needed.
Michigan broadcasters have the opportunity to submit suggested revisions and comments to the commission.
Please send all comments to MAB President Sam Klemet at sam@michmab.com by Friday, February 25th and they will be shared with the commission.
The most recent Michigan Law Revision Commission Reports can be found on the Commission's website located at: http://council.legislature.mi.gov/CouncilAdministrator/mlrc