Port Huron's WPHM to Celebrate 75th Anniversary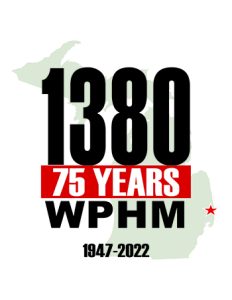 Liggett Communication's News/Talk/Sports 1380 WPHM will be celebrating a milestone anniversary this year. WPHM has teamed up with Lake Huron Medical Center to mark the occasion with special tributes, promotional announcements and historical flashbacks planned throughout the rest of 2022.
In March of 1947, the radio station originally known as WTTH was first issued a license from the Federal Communications Commission to broadcast on AM 1360 in Port Huron with 1,000 watts of power. WTTH signed on the air December 6th, 1947 with its call sign reflecting its original owner, The Times Herald newspaper.
The frequency of WTTH changed September 7, 1949 to the present day AM 1380. In 1961 WTTH's power was boosted to the current 5,000 watts providing a reliable signal both day and night not only to St. Clair County but to areas further north in the Thumb. It was around this time that the station adopted the slogan, "The Big Station in Michigan's Thumb."  WTTH's studios were adjacent to the newspaper's offices which at that time were located on 6th Street south of Water in Port Huron.
An ownership change in 1967 brought on a change of call signs, with the station adopting the letters WPHM, an acronym for "Wonderful Port Huron Michigan." The radio station's studios were moved in 1978 to a location on Military Street. Throughout much of WPHM's 75 years on the air the station played soft adult music with a heavy emphasis on news and sports. Some of the legendary voices heard on WPHM included news and commentary from Paul Harvey, Tigers Baseball with Ernie Harwell and longtime local morning show host John Hill.
In 1986, WPHM was sold from EnterForm to Hanson Communications. In 2000, Hanson Communications was purchased by Liggett Communications and the radio station's studios were moved to a location on Huron Avenue in Downtown Port Huron. WPHM became all news-talk shortly thereafter, and since 2003, has been the home of the WPHM Morning Show with Paul Miller. WPHM also continues to broadcast play by play sports, national news from ABC Radio, local news from the Blue Water News Network and a full lineup of nationally syndicated talk radio hosts.
WPHM wants to hear your stories from our past 75 years on the air! Submit your favorite moments and memories by going online to wphm.net/75th-anniversary and stay tuned for more 75th anniversary celebrations to be announced later this year.