WRSR's "Fox Feeding Frenzy" Brings in $61k+ to Fight Hunger!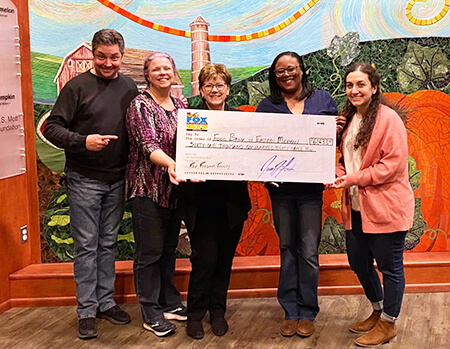 Krol Communication's WRSR-FM (Flint) held its annual "Fox Feeding Frenzy" last Friday (3/4/22) and brought in $61,633 for The Food Bank of Eastern Michigan, enough money to provide 369,798 Meals!
The 12-hour broadcast aired 7a.m. to 7p.m. from the Food Bank on Lapeer Road in Flint. Program Director Jeremy Fenech told the MAB, "Here at 103.9 The Fox, we are beyond thrilled with the outpouring of community support for this year's annual event for the Food Bank of Eastern Michigan. The Fox Feeding Frenzy is the perfect example year-after-year of the power of radio in local communities. This was the second highest total ever for the Food Bank, just shy of last year's record total. We are please to announce that next year the event will return to the radio station on Miller Road, much easier for people in Flint's business district to pop in and make in-person donations once again."
The Food Bank of Eastern Michigan provides food and water for its 415 partner agencies in 22 counties across Michigan. WRSR personalities were on the air live encouraging listeners (known as "Hunger Heros") to phone their pledge in.