WLUC's Steve Asplund Says 'Happy Trails and See You Down the Road'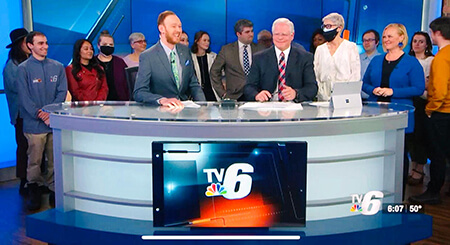 Steve Asplund, longtime news anchor at WLUC-TV (Marquette), broadcast his final show this past Wednesday (3/16), retiring after a 43-year career at the station.  Asplund has held various roles at the station for more than 42 years, most recently with news director responsibilities.
During his final broadcast, he delivered an emotional final farewell, surrounded by coworkers and his wife.  Radio Results Network reports that much of the newscast included tributes from Asplund's current and former co-workers. He also received a proclamation signed by all of the Upper Peninsula's lawmakers, and Governor Gretchen Whitmer.
Asked, "why retire now?" he explained, "My wife, Ann, has been retired for a couple of years and I'm 66 years old. I want to go and see the kids and basically not have any deadlines to get back to. The news business is all-consuming."
"It's cliché to say, but it really is the people you meet, the people you work with," Asplund said. "It's the people you do stories on that really change the way you operate as a person. You grow and learn each day by talking to those people and experiencing what they have, and sharing their stories."
He wound up his final newscast with, "Happy trails. See you down the road."
Watch a tribute to Steve Asplund and his final broadcast here: