WILX-TV Raises $14k For Capital Area Diaper Bank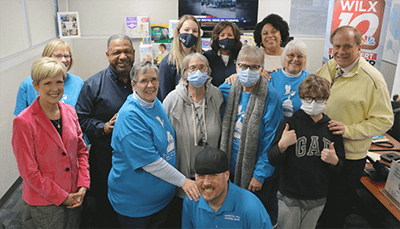 Gray Television's WILX-TV's (Lansing) March Make an Impact was held March 21-25 in support of the Capital Area Diaper Bank. Thanks to viewer donations, the event will help more than 2,200 babies with the the diapers and cash raised.
The Capital Area Diaper Bank is a non-profit, operated completely by volunteers, that supplies baby diapers and incontinence supplies at no charge to homeless and low-income families, as well as seniors and those with disabilities. The diapers are distributed through a network of community partners agencies, hospitals and churches. The Diaper Bank normally distributes thousands of diapers per month, but recently many of the shelves have been bare. The urgent need, especially for the toddler size, is partly due to steep increases in the cost of diapers.
Throughout the week, WILX asked viewers to drop off items at the station and other locations throughout Lansing. WILX reports that the community came through with more than 200 cases of diapers, and other supplies. Then, during a Friday telethon, viewers donated an incredible $14,000, allowing the Diaper Bank to purchase additional diapers and supplies.
"At several points during Studio 10 and the evening news, every phone was ringing non-stop," said WILX General Manager Debbie Petersmark. "The volunteers high-fived and celebrated the generosity, including several $500 and $1,000 donations." All funds go directly to the purchase of diapers and supplies. Linda Karl from the Capital Area Diaper Bank was moved to tears. She said 'It was beyond wonderful.' Thank you all again."