MAB: Supportting and Inspiring Future Generations
By: Sam Klemet, President & CEO
Michigan Association of Broadcasters
The Michigan Association of Broadcasters aim to support and inspire future generations.
This week, students from Brother Rice High School's broadcast program had the opportunity to see what a day in the life of a broadcaster is like while touring the Audacy Radio stations in Southfield and WDIV-TV in Detroit.
The students had the opportunity to meet with leadership at both stations as well as on-air personalities.
At WDIV, the students were able to sit in on the Noon newscast as well as have a candid conversation with News Director Kim Voet and News Operations Manager Ian Rhodes.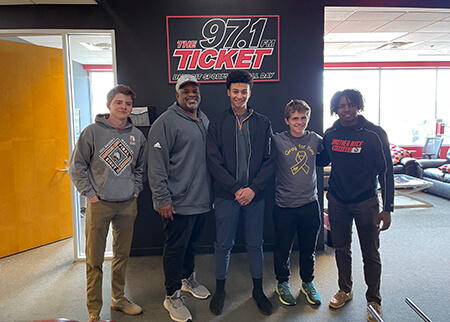 At Audacy, not only did students get to meet with on-air personalities from 97.1 The Ticket and WWJ, but got to see the digital and production teams in action.
Audacy also allowed the students to voice a commercial that will air on its stations throughout next week. This is the kind of hands-on experience that makes a deep connection for those considering a career in the industry.
The MAB appreciates Audacy Radio and WDIV-TV for their time and support of the future of the industry.
If other stations are open to hosting students, please don't hesitate to reach out to the MAB and we will help coordinate. The in-person tours leave a lasting impression and inspire those considering a career in local TV and radio.
"By far the best field trip I've ever been on. It was an eye opener to all of the possible career choices that are involved with what I'm interested in." – Luke Nelson, Brother Rice High School Junior
"Today was an amazing day that was eye opening for our students to see all the opportunities in the broadcast industry." – Adam Walentowicz, Brother Rice Broadcast Curriculum Educator