WJR Celebrates Its Centennial!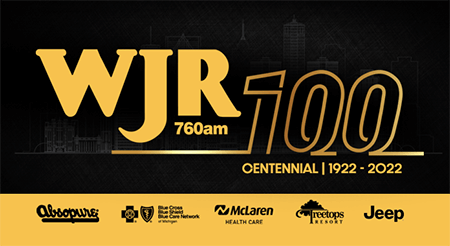 Cumulus Media's WJR-AM (Detroit) is celebrating its 100th Birthday! On May 4, 1922, the Detroit Free Press newspaper was issued a license, with the randomly assigned call letters of WCX. On August of 1925, the Jewett Radio & Phonograph Company received a license for a new station, WJR. The company also took over WCX, consolidating as WJR-WCX on 580 kHz.
In 1928, as part of a major AM band reorganization, WJR-WCX was assigned as the sole North American occupant of the clear channel frequency of 750 kHz. On December 16, 1928, the station moved from the newspaper's offices to its current location in the Fisher Building in uptown Detroit, and began identifying as "WJR Detroit, from the Golden Tower of the Fisher Building." In 1929 the license was transferred to "WJR, Goodwill Station, Inc.", and on April 22, 1929, "WCX" was formally dropped from the dual call sign, with the station becoming just WJR.  The station increased its power to 50,000 watts in 1935.
A shift from 750 kHz to 760 kHz happened in 1941 as part of the North American Regional Broadcasting Agreement.
The station is currently presenting online it's Centennial Celebration! From the debut broadcast at the offices of the Detroit Free Press to it's current and longtime home atop The Golden Tower of The Fisher Building.
J.P. McCarthy, Jack Parr, Ernie Harwell, Warren Pierce, Frank Beckmann, Mitch Albom, Paul W. Smith, and countless others have all culminated over the years to present our region's history, heritage and hopes through one Great Voice of The Great Lakes.
The station has set up a web resource for its centennial celebration here.  Happy Birthday, WJR!