Blarney Stone Launches "Q100 Michigan Homegrown Music"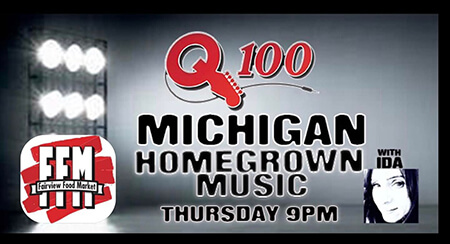 Blarney Stone Broadcasting is launching a locally produced, one-hour program dedicated to honoring Michigan's incomparable music tradition. Q100 Michigan Homegrown Music, with host Ida Reed, features Michiganders, as individuals and groups, who offer a true variety of delicious sound with so much talent and creativity in myriad musical genres.
Reed's show will air Thursdays between 9 – 10 p.m. on the Q100 3-station simulcast network in Northern Michigan (94.5 WYPV/100.3 WQON/106.3 WWMN); online @q100-fm.com; available via free WQON mobile app; and available via podcast @q100-fm.com/podcast.
The programming underscores BSB's founding commitment to offering the finest, most-diverse range of musical entertainment throughout Northern and Central Michigan, said Sheryl Coyne, President of Blarney Stone Broadcasting. "We believe in Michigan musicians and we're thrilled to continue to provide a platform for them to be heard on the radio and across the universe with on-line streaming and podcasts," Coyne said. "Ida Reed's knowledge and passion provides the perfect fit to highlight and entertain music enthusiasts with a highlight on our beautiful state and its incredibility talented musicians."
Reed boasts a unique approach to the program, bringing the perspective of a professional singer, multi-instrumental musician, live and studio sound engineer/tech, and event/concert creator and promoter. She was also a former music director, associate producer, senior producer and on-air talent in Northern Michigan radio. "I am excited to bring my industry knowledge and a different perspective to showcasing all of the amazing musical talent and people here in Michigan," Reed said.
Her first show aired this past Thursday (7/21).