WLEN, WSGW and WYCD Finalists in 2022 NAB Marconi Awards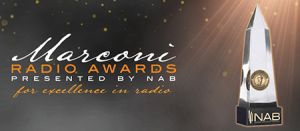 Three Michigan stations are finalists for this year's NAB Marconi Radio Awards!
Lenawee Broadcasting's WLEN-FM (Adrian) has been nominated as a Legendary Station of the Year, alongside radio stations from San Francisco, Dallas, Phoenix and Knoxville. Additionally, WLEN's Julie Koehn has also been nominated as a Legendary Radio Manager of the Year.
Under Koehn's leadership, the station has previously won 5 NAB Crystal Radio Awards, 1 NAB Crystal Heritage Radio Award (given to stations who have won 5 Crystal Awards), 4 Marconi Awards (2 for Small Market Station of the Year and 2 for AC Station of the Year), 4 Service to America Awards (3 for Service to Children and 1 for Small Market Radio) as well as numerous awards from the MAB over the years, including station of the year 15 times.
Also nominated for the second year in a row as Marconi Medium Market Station of the Year is Alpha Media's WSGW-AM (Saginaw). WSGW was nominated along with stations in Canton, Ohio, Wilmington, Delaware, Fort Wayne, Indiana and Chattanooga, Tennessee.
WSGW won both an NAB Crystal Award and a Service to America Award for 2019 and was a finalist for another Service to America Award in 2020. WSGW won MAB Station of the Year honors in 2021 for the eighth time and won eight first place Broadcast Excellence Awards including Use of New Media.
And, nominated for Large Market Radio Station of the Year is Audacy's WYCD-FM (Detroit).  WYCD was nominated along with stations from Denver, Pittsburgh, Indianapolis and Cincinnati.
Established in 1989 and named after an inventor and a Nobel Prize winner, the NAB Marconi Radio Awards are given to radio stations and outstanding on-air personalities to recognize excellence in radio. The winners will be announced October 19th at the Marconi Radio Awards Dinner held during the National Association of Broadcaster Show in New York.
See the complete list of finalists here.