WRSR/Flint Midday Personality Derek Sorenson Passes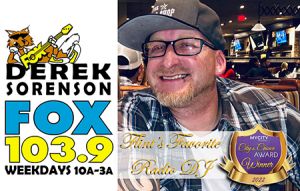 The MAB is sad to share the news that Derek Sorenson, midday host at Krol Communication's WRSR-FM (Flint) has died.  
In a post on the station's website, Program Director Jeremy Fenech wrotes, "We are heartbroken to report that our beloved Derek Sorenson passed away unexpectedly on July 16, 2022. He loved hosting events and making people smile. He absolutely loved coming to work and talking to listeners both on the air and on the phone. He would take the time to talk to listeners on the phone or while on remote broadcasts. He was incredibly helpful behind the scenes here at The Fox, and never left without asking "need anything before I go?" His heart was genuine and true and we will miss him immensely. Rest in peace, Derek and in your own words… "Deuces"
Sorenson was recipient of "Flint's Favorite Radio DJ" award from My City Magazine for two years in-a-row.  Sorenson, a graduate of Specs@LTU previously worked at Townsquare Media's WWBN-FM (Flint).
Services were held on July 23.