Jacobs Media: Does "Community" Still Matter In Radio?
Editor's note:  This past week, the MAB held its annual Summer Advocacy Conference, our first in-person big event since 2020 at Crystal Mountain Resort in Thompsonville.  Fred and Paul Jacobs were an integral part of this year's conference and this morning (8/12), Fred shared his thoughts in a post which we have borrowed from the Jacobs Media blog, JacoBLOG.
By: Fred Jacobs
What do you make of today's blog post headline?
After all, "community" can be many things. It might include where you live, but it can also encompass where you work, as well as your friends, family, and colleagues. It could also be social "communities" on Facebook, Twitter, TikTok, and other online platforms that bring like-minded people together.
In radio, communities can form around different groupings, such as music genres, personality shows, and platforms like Public Radio or Christian Radio.
A sense of community can be an advantage for radio brands that work at it, providing a sense of belonging not common to digital media channels that include Spotify or satellite radio. But that doesn't mean they aren't trying. And that should motivate radio professionals to hopefully conclude they need to do more than backtime, schedule music, and deliver a consistent but too often, bland product.
Next week, I'll be visiting an important community within the radio broadcasting industry – air personalities – at the 34th annual Morning Show Boot Camp in Chicago. DJs, hosts, and shows are the lifeblood of radio, that "secret sauce" that differentiates the medium from its aforementioned competitors. And they are indeed communal, and one that seems to get closer with each passing year.
Without giving away the results of AQ4, our (mostly) annual survey of commercial radio air talent in the U.S., I can tell you the cynicism many feel toward their stations and companies has intensified in the last 12 months. And to a degree, that likely forces folks who make their living behind a mic to bond with one another. They are all very different , of course, but they also share many hopes, dreams, and fears. It's no wonder they relish the opportunity to hang out with their on-air peers every year at Boot Camp.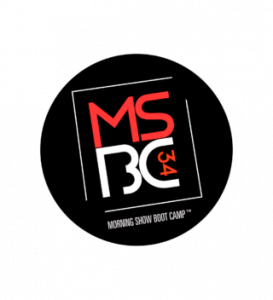 Attending Boot Camp always helps ground me, reminding me the importance of radio's talent, the pressure we put on them, and the importance of their roles, today and in the future. I wince every time I read about staff reductions, especially when they involve air studio denizens. As a consultant, I am more than aware that not everyone can be Phil Hendrie, Charlamagne Tha God, or Dana Cortez. But I wonder whether we as an industry could do a better job training, nurturing, and coaching air talent, not just in on-air skills, but in other disciplines that could make them more successful at their craft.
Earlier this week, I got to spend a couple of days with a different community – TV and radio broadcasters from my home state of Michigan. The Michigan Association of Broadcasters is one of the best SBAs (state broadcasting associations), and not just because I live here. But the MAB is in transition as Karole White – CEO for 27 successful years – has handed the reins to her successor, the very able, hard-working, and charismatic Sam Klemet.
At the Crystal Mountain resort in Northern Michigan, the group got together for the first time in over two years to assess their situation and their role. Paul and I have been charged to deliver a new 5-year strategic plan to the MAB, and we delivered it to the assembled multitudes.

I also got to moderate an automotive panel featuring a great panel of experts that included Juan Galdamez (Xperi), Roger Lanctot (Strategy Analytics), and Steve Newberry (Quu). April Carty-Sipp from the NAB and legal genius, David Oxenford, were among the other presenters.
In much the same way that Boot Camp brings me closer to the industry's on-air talent, these state broadcaster conferences connect me with broadcasters of all shapes, sizes, and types.
I truly enjoy hearing the stories of the Hall of Fame inductees. This year, it was Dick Haefner, a pro who's delivered the news to Detroiters on legendary stations that include WJR and WWJ throughout his long, storied career. Tim Feagan, iHeart's prescient market manager in Grand Rapids is one of the good guys. And then veteran Art Lewis, who's been doing mornings at WSGW and talking to Saginaw listeners since Lyndon Johnson was president. All three represent what is great about Michigan radio.
The MAB wisely gives an award to the public media broadcaster of the year. And it was given to WEMU host Lisa Barry (pictured) who passed away last November. And appropriately the MAB's Lifetime Achievement Award went to Karole White. It was a special night.
While all the inductees shared very different trajectories and histories, the glue that binds them is their commitment to the communities they've served during their decades working in Michigan radio.
True, the MAB is even more special to me because I live here and Paul and I have had a long-time relationship with Karole, her team, and the organization. It is representative of so many states because it has it all: big cities such as Detroit and Grand Rapids, amazing vacation and recreational spots in "Pure Michigan," and of course "The U.P." – the Upper Peninsula – a different world altogether.
But it's more than that. Michigan is emblematic of so many states filled with broadcasters who truly care – about their communities, their service, and the audiences they serve. That was on display at Crystal Mountain this week. In between presentations, the Association created short video vignettes highlighting public services activities their stations produced.
From giving away blankets in the cold weather to backpacks for kids going back to school, these efforts were often spontaneous, timely, and from the heart. Many were accomplished in smaller markets where there were no demands these activities provided sponsorship R.O.I. or other "strategic benefits." And the station personnel and airstaffers involved all shared common traits – enthusiasm, empathy, and effort – even though their staffs are often small and their budgets smaller. These broadcasters aren't chasing meters around the metro – they're providing tangible value and service to the cities, townships, and regions they serve.
This year, the MAB published a pamphlet on all the tables called "Serving Our Communities." It divides the state into 14 districts, showcasing some of these amazing public affairs activities in an attractive format. This level of activity and recognition becomes habit-forming. If I'm a market manager sitting in the Crystal Ballroom, I'm either proud one of my stations was included this year, or I'm home today working with my staff making sure we're part of these selfless activities at next year's MAB conference.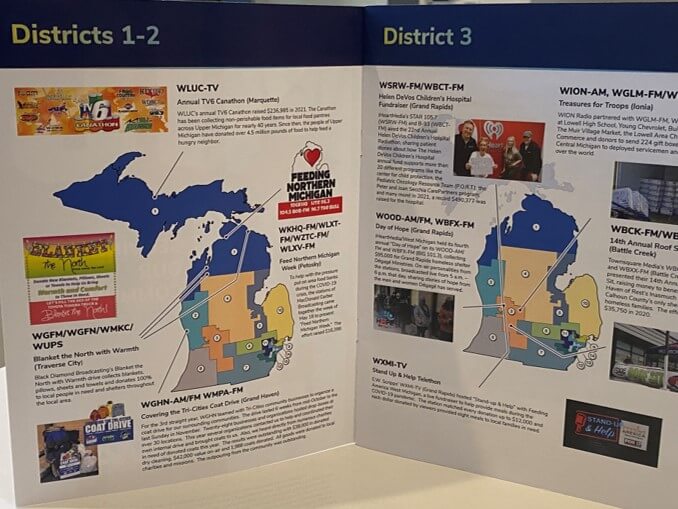 Another key element is the MAB Foundation, supporting students around the state who wish to pursue broadcasting as a career. As us aging radio people know, not enough young people are interested in working for radio and TV stations, an challenge the MAB will take on in 2023. As a result, supporting and encouraging kids who have a yen to work in this business is central to the industry's sustainability.

To that end, the MAB Foundation hands out thousands of dollars each year, helping students (and their families) financially deal with college. And through its awards programs, the MAB keeps students in the game with scores of awards each year, celebrating production, news, advertising, podcasts, and other elements of broadcast and digital content. For the coming year, Seth Resler will chair the MAB Foundation Board, another way in which we can support the organization.
The MAB also honors young people making an impact in Michigan on the airwaves. Two young movers and shakers, Dalton Shetler and Casey Jones (pictured) were honored for their work. And by the look and sound of their abilities, you're going to hear about both of them.
Dalton is a graduate of Goshen College in Indiana, who I highlighted earlier in the year. He now does sports for the Michigan State Broadcasting Sports Network under the tutelage of Will Tieman and Wendy Hart.
Casey Jones is on the air at WOOD-TV8 in Grand Rapids, recently named the station's Director of Community Affairs. Introduced by VP/GM Julie Brinks, Casey is bringing energy to a traditional TV operation.
The events of this week reminded me of the importance of these SBAs to our business. In an industry that is frequently divided and has difficulty speaking in one voice, these associations are focused on bringing out the best in broadcasting, television and radio, in good times and bad. These advocacy organizations do what radio's biggest companies simply cannot do. They unite their regions, represent broadcasting's common interests, and center us on what this industry is all about.
On a national level, of course, the NAB provides many of these same services. But it's the SBAs that represent the parochial issues and needs of states and regions, often very different from one another. At Jacobs Media, Paul, Seth and I are frequent speakers at their events, and we have become conditioned to take into account the diverse needs of these organizations – TV, radio, big cities, small towns, big broadcast companies, moms & pops.
There are times when working in radio in this era can be downright difficult, demoralizing, and even disheartening. It's not the business it used to be. If you need proof, open a social post and submit "What happened to radio?" And then watch the fun.
If those doldrums get to you, my best advice is to attend one of your state broadcaster association events. Or better yet, get involved, join a committee, and help out.
You'll quickly learn the meaning of "community" because you are part of a special one.