Hillsdale's Collegian Highlights 'The Dale'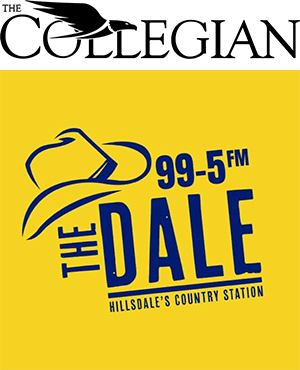 Hillsdale College's weekly student newspaper, The Collegian,  recently highlighted McKibbin Media's new station, 1340 am and 99.5 fm "The Dale."  Launched shortly after McKibbin closed on its purchase of WCSR-AM/FM at the end of February, "The Dale" debuted on WCSR-AM and its companion FM translator, splitting a former simulcast with WCSR-FM, which continues its full-service format.
In the Collegian article, McKibbin Media owner Jamie McKibbin said he chose to put a country music format on two of the signals because there was a need for a local country station. "There are a lot of country music fans in the area, and it's a really fun format," McKibbin said.
Also quoted in the article is Scot Bertram, General Manager of Hillsdale College radio station Radio Free Hillsdale 101.7 FM.  Bertram said, "Splitting the station allows them to potentially service a new group of local listeners."
McKibbin added that the addition of the new signal, there are greater opportunities for local sports coverage as well as the ability to train young people.  "Hopefully, we can be a springboard for those who want to be in broadcasting at another level. I've only been here since February, but I really look forward to more collaboration with the college in the future," McKibbin said.
Read the entire article here.