NAB Speaks Against Performance Fees For Radio Airplay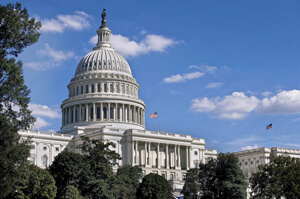 Performance fees for radio stations would significantly harm the industry in the middle of pandemic-related declines in revenue as well as pressure from streaming competition, Curtis LeGeyt, chief operating officer for the National Association of Broadcasters, told U.S. Senators on Wednesday (5/27).
New ripples have surfaced in radio's ongoing performance royalty battle as Congressional efforts to update federal music copyright laws may engulf the decades-long issue of whether AM-FM airplay should trigger payments to artists, according to an InsideRadio report that noted "the Senate Judiciary Subcommittee on Intellectual Property took the rare step on Wednesday of opening to the public a fact-finding session held for staffers to better understand why the music industry thinks it's due money from radio stations – and why broadcasters believe radio's free-and-local business model should remain exempt."
"Broadcasters have especially taken it on the chin with respect to what's happened with advertising," LeGeyt said. "We don't have the luxury of shutting down our business for a few weeks as a way to account for this fiscally. Our stations are staying on the air, they are available 24/7 and frankly they're doing their best work right now."
Senator Thom Tillis (R-NC) said the the virtual roundtable was convened to stimulate a dialogue among various industries impacted by proposals to adopt a radio royalty. He also said the briefing was intended to determine whether a "fair outcome" is possible or any if changes are needed to the Digital Millennium Copyright Act (DMCA) governing streaming music royalties.
LeGeyt also said, "The recording industry is also well aware that NAB stands ready to continue discussions around alternative music licensing frameworks that could increase total royalties to performing artists while allowing broadcasters to expand our own streaming footprint,"
The Senate Judiciary IP Subcommittee plans to spend much of 2020 analyzing whether reforms need to be adopted to fine tune the music rights within the DMCA. On Wednesday, aides to Tillis said if it is determined that updates are required, they're not expected to be introduced until after the November elections.
The InsideRadio report noted "that timing would be especially precarious to broadcasters since the so-called lame duck sessions have traditionally been legislative wildcards and the non-binding resolutions signed by more than 200 House members and 27 Senators opposing a radio royalty may not provide the same insurance that a performance royalty won't be enacted – especially if many of the lawmakers lost their reelection bids."