WCMU Public Media hosts Back-to-School Virtual Conversation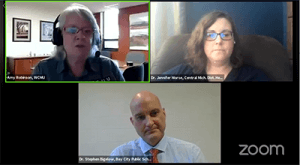 On September 2, WCMU Public Media (Mt. Pleasant) hosted a "virtual conversation" on Zoom, offering insight on how local Michigan communities are approaching both online and in-person learning while keeping their communities safe.  "Returning to School" featured speakers including Superintendent of Gaylord Community Schools, Brian Pearson; Superintendent of Bay City Public Schools, Stephen C. Bigelow, Ph.D; and Medical Director of Central Michigan District Health Department, Dr. Jennifer Morse M.D.
The online interactive event was free and offered parents and students a chance to hear from experts to talk about the school year and the impact of the coronavirus pandemic.