The Greatest Hits: Digital Tips for Radio Broadcasters Navigating the Pandemic
By: Seth Resler
Jacobs Media Strategies
Radio broadcasters spent much of 2020 learning to adapt to new working conditions. Over time, we gradually got the hang of it. But as we head into 2021, we're looking at more of the same — at least for the next several months. So, just in case you missed it, here are some of last year's best digital tips for radio stations riding out the remainder of the pandemic:
Working from Home:
Fostering Community with the Audience: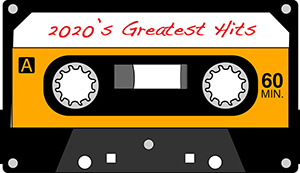 Livestreaming and Video:
Mistakes to Avoid:
Keep the Revenue Flowing:
For the Unemployed:
With 2020 in the rearview mirror, let's hope that the worst will soon be behind us. I wish you all the best for 2021.
For more assistance on digital or social media, contact MAB Member Services at mab@michmab.com or 1-800-968-7622.
Editor's Note: The views and opinions of this article do not necessarily reflect those of the MAB. Contact the MAB for information on the MAB's official editorial policy.