7 Google Alerts That Every Radio Station Should Set Up
By: Seth Resler
Jacobs Media Strategies
People know that Google is a powerful search engine, but many people don't realize that you can set Google up to conduct an ongoing search that alerts you any time it finds new content containing a specific term. This is useful if you want to get notified any time a new news article, blogpost, video, or other piece of content about a specific topic appears on the internet. You can accomplish this through "Google Alerts."
Setting up a Google Alert is easy. Go to Google.com/alerts and type in the term you want to set up an alert for: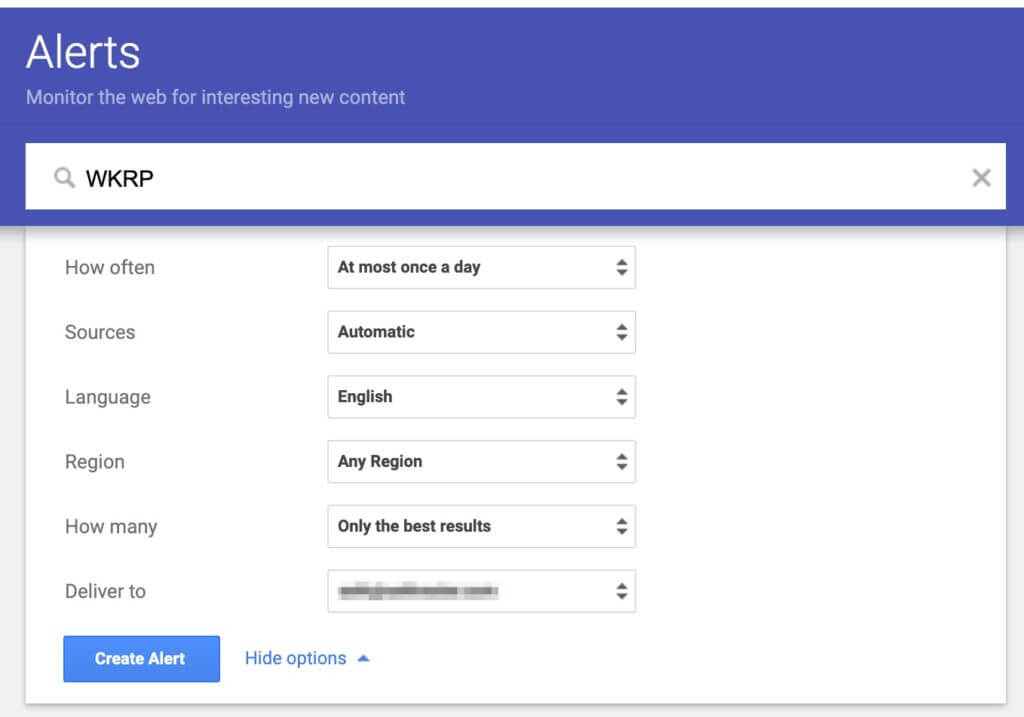 In this example, I have set up an alert for the term "WKRP." Clicking on "Show options" will allow you to further customize your search. For example, if you wish to receive your alerts through an RSS feed instead of by email — which is useful if you're building a customized show prep service using RSS — you can do so here.
If the term you are searching for is a phrase that requires an exact match — such as "Second Date Update" — be sure to put quotation marks around the term just like you would for a regular Google search.
Here are six Google Alerts that every radio station should set up to help them monitor the web:
1. The Station's Name or Call Letters
Set up a Google alert for different permutations of the station's name and call letters so you'll know whenever something new about the station is published.
2. Names of the On-Air Personalities
Set up alerts for all of your radio station's key on-air personalities. If one of your personalities has a common name or a name that uses a common word (eg, "John Smith" or "Jade"), you may need to modify the search by including the station's call letters or city.
3. Specialty Shows
If your station airs any specialty shows, set up an alert for it. Again, a search for a common name like "Acoustic Café" may require you to include a modifier.
4. Benchmark Features
If any of your on-air personalities produce signature bits, like "War of the Roses" or "Jam Scams," set up alerts for them.
5. Podcast Titles
If your radio station publishes podcasts, set up alerts for the titles.
6. Names of Key Promotions
While events have declined during the pandemic, if your radio station has signature events that will return this year — even in virtual form — set up an alert for them.
7. The Competition
Keep tabs on what other radio stations in your market are up to by setting up each of the above alerts for their stations in addition to your own.
Once you've set up your alerts, monitor them as they roll in. If you are getting too many alerts, or the search results that are retrieved are not useful, you can modify the searches. Check Google's documentation for more tips. Google Alerts are an easy way to stay on top of what people in your market are saying about your station.
For more assistance on digital or social media, contact MAB Member Services at mab@michmab.com or 1-800-968-7622.
Editor's Note: The views and opinions of this article do not necessarily reflect those of the MAB. Contact the MAB for information on the MAB's official editorial policy.