How Your Radio Station Can Run a Virtual Job Fair Using Remo
By: Seth Resler
Jacobs Media Strategies
As the country reopens in the wake of the COVID-19 pandemic, one of the biggest challenges for local businesses is finding qualified employees. If your radio station can help local businesses overcome this hurdle, you stand a good chance of converting them into advertising clients.
Let's look at how your station could host a virtual job fair using the Remo conference platform. Of all the conference platforms I have used in the last year, Remo has stood out as the best when it comes to facilitating virtual networking. In other words, it excels at enabling strangers to meet each other and find ways to collaborate — precisely the sort of thing you would want to happen at a job fair.
Remo accomplishes this through two modes: The first is Presentation Mode, which is the basic webinar-with-a-chat-box-on-the-side functionality that you see in many other conference platforms. The second mode, Conversation Mode, is what makes the networking possible. In Conversation Mode, attendees see a floorplan of a ballroom, complete with numerous tables. Attendees can "sit down" at a table by double-clicking on it, at which point they are in a video conference with all they other attendees at that table. Attendees can move to another table at any time by double-clicking on a new table. This enables attendees to "work the room," mingling from table to table, much like they would in real life.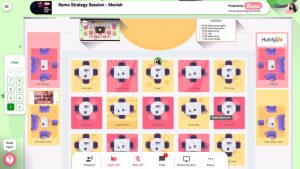 Here's how your radio station can use this platform to create a virtual job fair:
1. Set up an event in Remo.
Sign up for a Remo account and set up an event. At the very beginning, you really only need to set up the date, the time and the name of the event. You can go back and fill in the details — including adding the graphics, videos and sponsors — later.
The key to this event is that we're going to allow employers to purchase virtual tables at the job fair where they can talk with potential employees.
Set your event to private, as you want people to register for it through your website, not through a Remo form.
While Remo is fairly intuitive, it's natural to feel intimidated at first. I recommend hosting a practice event before the real job fair to get the hang of it.
2. Set up a landing page and registration form for employers.
On your radio station's website, create a page where employers can register to participate in the job fair. To do this, you'll need to use a form-building app, such as Formstack or Gravity Forms. Here is some of the information you may want to collect from employers when they register:
Number of tables that they want to purchase
List of positions they are hiring for
Company description
Company logo
Link to company website
Link to short (<1 minute) recruitment video (we're going to charge employers extra to show this video — see below)
Billing contact info
You can collect payment through the online form or you can bill the employers after the job fair.
You will need your registration form to pass data to other apps. First, it will need to pass the email addresses of the registrants to Remo. The best way to do this is to use Zapier to set up a "zap" to pass the data. Here's more info on how to connect Formstack to Remo or Gravity Forms to Remo.
Additionally, you will want to pass the information from the employers to the software that you use to manage clients and potential clients. This may be an email service provider such as Mailchimp or Constant Contact, a CRM such as Salesforce, or a marketing automation tool like Hubspot.
Once this page is set up, your sales team can start recruiting local businesses to participate.
3. Send up a landing page for job seekers.
We're not going to charge listeners to attend the job fair. On your radio station's website, create a separate registration page for people who are looking for employment. This page will feature a different registration form. You will want to collect the same basic information that you collect when listeners join your station's email database.
This form should also pass email addresses to Remo. Additionally, it should pass the email addresses to your station's email database. Note that these email addresses should be added to your station's listener database, not its customer database.
Give this landing page an easy-to-remember vanity URL, such as WKRP.com/jobfair, and add a link to this page to your website's main menu.
4. Promote the job fair.
You know how to do this: use your radio station's airwaves, email database, text message database, social media accounts, and other marketing channels to drive listeners to the landing page for job seekers.
5. Finish setting up your event.
Now we can go back into Remo and set up all the remaining details. I won't go through all the settings here; instead, familiarize yourself with Remo by hosting a practice event.
During the event, each employer will have a representative stationed at a table to talk to recruits, so we'll want to name a table after each participating employer. Note that you don't set the table names in the event's settings; instead, enter the event and double-click on each table's name to rename it.
Some of the employers have paid extra to have their recruitment videos shown at the event. Edit together a compilation of these recruitment videos. Depending on the length, you may want to create multiple compilation videos. We're going to show these compilations in Presentation Mode during the fair. I recommend having one of your on-air personalities pre-record a video introduction to these compilation videos so you don't have to go "live" in Presentation Mode at all during the job fair. This will make the event even easier to run.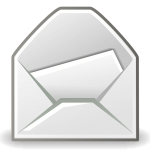 6. Email instructions to employers and job seekers.
Remo's built-in email functionality doesn't currently allow for a lot of customization, so I usually turn it off and send more specific emails with another tool. You can use whichever tool is best suited to you — your formbuilder's autoresponders, your email service provider or plain ol' Microsoft Outlook. In any event, you'll want to send different emails to the two different types of providers, but both of these should steer participants to a list of equipment requirements and encourage people to test their gear ahead of time to make sure it's compatible with the Remo platform. Here's a webpage we set up at Jacobs Media to help participants get the most out of Remo.
7. Host the job fair.
Once the event is set up, running it is fairly easily — especially because the presentations are pre-recorded. There's some basic logistics to execute, such as firing off announcements and handling anybody who experiences technical issues, but you should be able to spend most of the event mingling.
8. Send follow up emails.
After the event is over, send follow-up emails to all the attendees. In the email to job seekers, include contact information about all of the employers that participated so people can reach them.
These are the basic steps for setting up a job fair using the Remo platform. Naturally, the devil is in the details, so you'll want to give yourself enough time to familiarize yourself with the platform and host a practice event. If you want help, feel free to reach out to me. That's what I'm here for.
For more assistance on digital or social media, contact MAB Member Services at mab@michmab.com or 1-800-968-7622.
Editor's Note: The views and opinions of this article do not necessarily reflect those of the MAB. Contact the MAB for information on the MAB's official editorial policy.