How Your Radio Station Can Take Advantage of Facebook Groups
By: Seth Resler
Jacobs Media Strategies
It's always fun to try out new social media platforms when they emerge, but while I encourage radio stations to experiment on TikTok or Clubhouse with whatever the hot new thing is, often the most effective strategy is to renew efforts on an established platform. While it's tempting to dismiss Facebook, year after year it beats out every other social media platform in our Techsurvey results: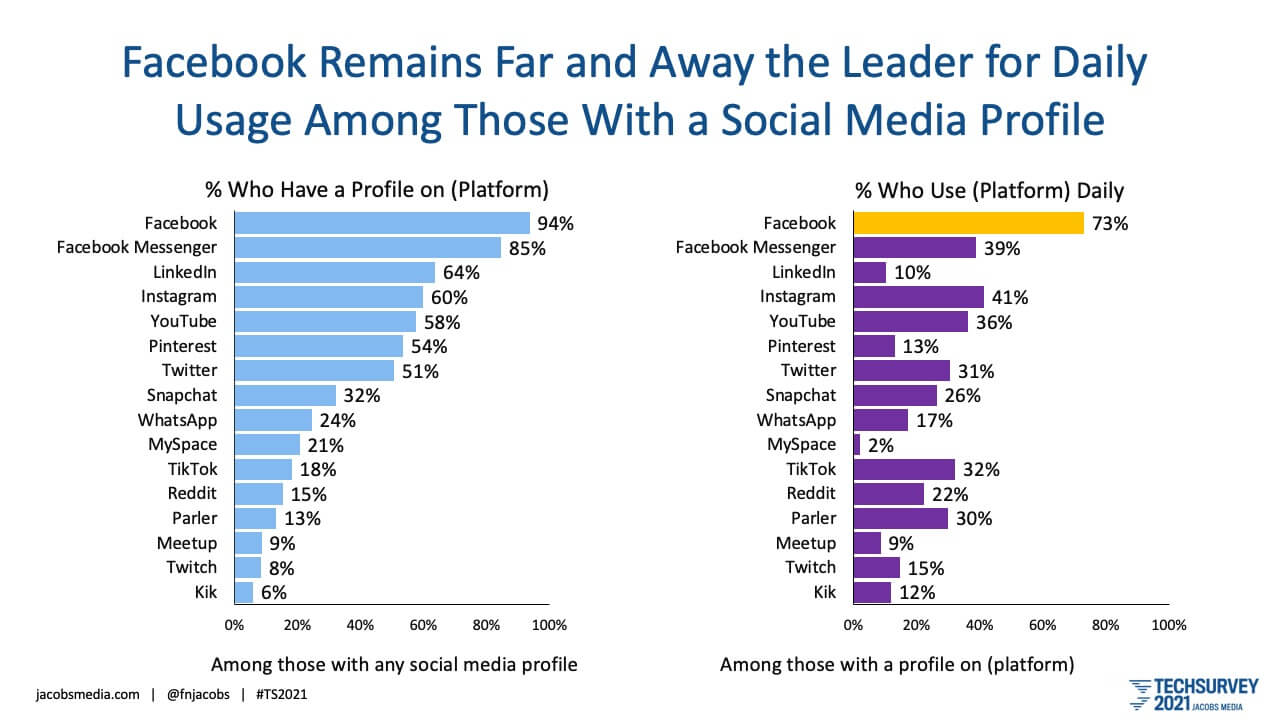 Sure, it's not growing as fast as it used to, and younger folks don't think it's the cool thing anymore, but it's still the platform that reaches the most people on a daily basis. (Gee, sound like any terrestrial mediums you know?)
While many radio stations have been using Facebook pages for years, far fewer are taking advantage of Facebook groups. But as Facebook has come under scrutiny in the last several years, it's prioritized these communities. Personally, I find more value in Facebook groups than in any other feature. I belong to podcasting groups so I can network, video livestreaming groups so I can learn and broadcasting groups so I can hear people complain about radio consultants.
If your radio station isn't using Facebook groups, it's missing a valuable opportunity. So let's talk about how to launch a successful Facebook group:
1. Identify the right community.
The first step is to identify the right community for your Facebook group. A successful group is one that attracts people who will engage with each other on their own. If a station or show has a particularly passionate fan base, a community of fans may accomplish this, but more often that not, you will want to establish a Facebook group for a subset of your listeners that is passionate about a particular topic.
Your listeners are geographically concentrated, so it's wise to create a Facebook that is centered around the same area. Combine your station's location with another topic that inspires passion. Here are some ideas:
An industry, job title or defining role (Ex: Atlanta bartenders, Boston musicians, Seattle moms)
A hobby or sport (Ex: Louisville hunters, Provo car collectors)
Something people love to spend money on (Denver concerts, Tallahassee craft beer, Binghamton vinyl collectors)
As you contemplate your community, ask yourself why people will participate. Do they want to network with others? Are they looking for a place to seek advice? Do they want to share photos and videos with people who will appreciate them?
Naturally, you will want to align your Facebook group with another station initiative. If your station hosts a local music show, create a group for local musicians; if your station hosts an annual wine testing event, create a group for local wine drinkers; if your station produces a specialty feature to recognize local teachers, create a group for local teachers; etc.
2. Give the group a descriptive name.
There are a lot of things that go into setting up your group, from creating a cover image to crafting questions for people who want to join to setting up the criteria for automatic admission. But none of these are as important as selecting the right name for your group.
While it's tempting to pick a name that is clever or matches your station's verbiage, it's better to pick a name that is more "on the nose." There are two reasons for this: first, you want to include keywords that ensure your group comes up in search results when people look for it; second, you want people to know what the group is about just by reading its name.
For example, if your station hosts a local music show titled "HomeTunes," you may be tempted to name your Facebook group the same thing, but it is more likely to be discovered and grow if you name it "San Diego Jazz Musicians." A good name instantly conveys who the group is for and what members will get out of it.
3. Establish clear rules.
Facebook provides a section to post rules for the group. Use this space to make it clear what behavior is not acceptable. In addition to the usual "no hate speech" type of rules, consider prohibiting any behavior that others might find annoying, such as self-promotion or spamming other members.
Use the rules to not only tell people what they should not do, but also what they should do. For example, if you want people to post photos every time they drink a craft beer, say so in the rules.
4. Invite the right leaders to participate.
The quality of your community will depend on its members, so make sure you personally invite key players. For example, if you are creating a group for local musicians, email the local club owners, recording studio owners, and festival organizers and ask them to join. Facebook enables you to designate group members as experts on a specific topics. Take advantage of this feature.
5. Promote.
Let listeners know that your Facebook group exists:
Invite fans of your Facebook page.
Send an email campaign — preferably one that targets the right subset of your audience.
Use on-air promos. For example, promote a group for local musicians during the local music show.
Encourage influencers to share the group.
6. Welcome new members.
Facebook provides a feature for you to welcome all of your new members by tagging them in a post with a single click of a button. But take it one step further by encouraging your new members to reply to that post. For example, ask them to introduce themselves and share a photo.
7. Seed participation.
Hopefully your Facebook group will eventually find a life its own, in the beginning you will want to show people how to participate by encouraging them to do so in various ways. For example, if you've launched a group dedicated to craft beer, ask people to post photos of the last craft beer they drank, or create a poll to find out what style of beer members like best. You can schedule posts like this in advance if you want to create several in one sitting.
If you need local content to share in the group, RSS feeds can help you find stuff. Adapt this tutorial to your needs.
If you have invited key people to be members of the group, ask them to seed participation as well. It's helpful to tell them exactly how to do that.
8. Engage.
Here's where the real work comes in, and there's no way around it. You can't set a Facebook group on auto-pilot. You will need somebody from your radio station's staff to act as a community manager for the group. This involves welcoming new members, encouraging participation, answering questions and enforcing the rules. Think of your new community as a garden — somebody has to cultivate it. But if you do, when the time comes, you'll have a bountiful harvest.
For more assistance on digital or social media, contact MAB Member Services at mab@michmab.com or 1-800-968-7622.
Editor's Note: The views and opinions of this article do not necessarily reflect those of the MAB. Contact the MAB for information on the MAB's official editorial policy.