Give Away Radio Station Stickers to Capture Listener Contact Info
By: Seth Resler
Jacobs Media Strategies
One of the most important things you can use your radio station's website to do is to capture contact information from your listeners. By capturing their email addresses and other information, you can reach these listeners again later and activate them.
Many stations give stuff away as a way to entice listeners to opt into their databases. Usually, this is done in the form of a contest: A listener fills out an online form and is entered to win; that form adds their info into the station's database. But you can also entice listeners to fill out a form by giving something to everybody, not just a few lucky winners.
Once upon a time, stickers were the ubiquitous radio station promo item. Some people went to great lengths to collect radio stickers from around the country. Radio station stickers make sense: Research shows that the number one reason people put bumper stickers on their cars is to make a statement about themselves, and what you listen to says a lot about who you are. (How many radio listeners are willing to put a station's bumper sticker on their car? We asked that question for this first time in our annual Techsurvey this year. We'll reveal the results this spring.) But over the years, radio station stickers have become a victim of budget cuts, especially because it is hard to gauge the ROI on these marketing pieces. Do stickers really impact listenership?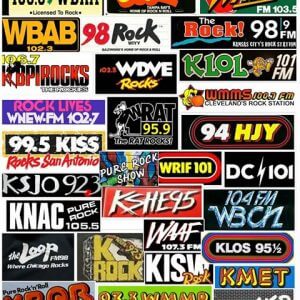 Today, we often see people make a statement by displaying stickers on a different device: Their laptops. This gives radio stations a new opportunity to give stickers away. This time, however, there is a better way to measure the success of a sticker campaign. Instead of using stickers in the hopes of driving listenership, you can use them to capture contact information.
The method is simple: Build a page on your radio station's website where people can give their mailing address — along with any other information you want to capture — in return for having a sticker mailed to them. Once a week or so, export the form submissions as a CSV file, import that file into a mail merge document, and print envelopes with the addresses on them. Drop a couple of stickers into each envelope and mail them off. Not only will you capture contact information from your biggest fans, but you will have provided them with a tool that they can use to promote your station.
While the cost of postage means that this is more expensive than just ordering a brick of bumper stickers and passing them out at a concert, in the long run it is far more cost effective. After all, you're only providing stickers to people who request them, which increases the chances that those stickers will wind up on laptops instead of in trash cans. Moreover, you can calculate your ROI by dividing the number of new database entries you receive through the form by the amount of money you spend printing and mailing out stickers.
Perhaps it's time for the radio station sticker to make a comeback.
For more assistance on digital or social media, contact MAB Member Services at mab@michmab.com or 1-800-968-7622.
Editor's Note: The views and opinions of this article do not necessarily reflect those of the MAB. Contact the MAB for information on the MAB's official editorial policy.