These Digital Privacy Issues Should Be On Broadcasters' Radar
By: Seth Resler
Jacobs Media Strategies
Digital privacy has become a hot topic. In the latest Techsurvey, our annual online survey of radio listeners, more than 80% expressed concern over how their data is used by tech companies. Consumers are aware that digital companies are gathering data to market to them, and they're wary of the practice: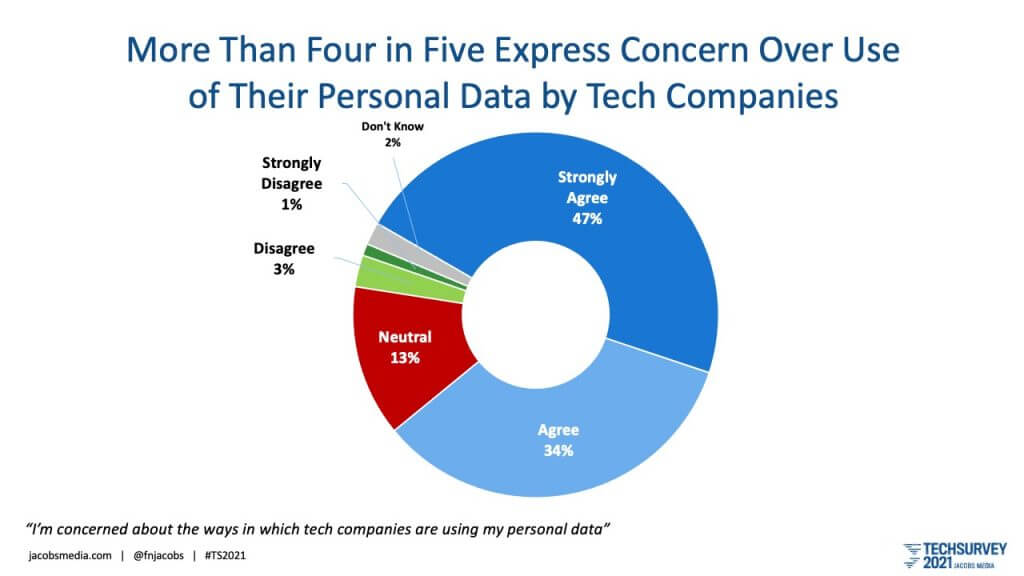 Over the past few years, Apple has positioned itself as a defender of its customers' digital privacy. This is more than just a marketing tactic; their actions have had real teeth. Given that nearly 47% of smartphone owners in the United States have iPhones, when Apple acts, those acts ripple throughout the world. In particular, Apple's actions are having a big impact on marketers and, by extension, media companies.
Here are three impacts of Apple's digital privacy decision that broadcasters should be aware of:
1) Apple's Impact on Pay Per Click Ads
Apple recently introduced an update to iOS 14 that impacts how users are targeted with paid search ads, such as those used by platforms like Facebook. Previously, these platforms could track users' actions across different apps and different websites without their knowledge, and then use this information to target them with advertisements. Apple changed this when it introduced App Track Transparency in iOS 14.5, which requires apps to ask for permission before tracking a user's actions.
"Privacy means peace of mind, it means security, and it means you are in the driver's seat when it comes to your own data," declared Craig Federighi, Apple's senior vice president of Software Engineering. "Our goal is to create technology that keeps people's information safe and protected. We believe privacy is a fundamental human right, and our teams work every day to embed it in everything we make."
The effectiveness of Facebook ads relies on this user data, so the company pushed back against Apple's move by positioning itself as a champion for small business owners. Yet Facebook admitted, "As these changes take effect, over time you may see an overall decrease in ad performance and personalization and an increase in cost per action."
Data from Flurry Analytics shows that as of September 6th, 2021, only 15% of iOS14 users have opted to allow data tracking. The bottom line? Apple's protection of its customers' data privacy is making paid digital ads less effective.
2) Apple's Impact on Email Marketing
At Apple's Worldwide Developer Conference earlier this year, the company announced that additional privacy features would come with the arrival of iOS 15. Apple's Mail App will include Mail Privacy Protection, which prevents email marketing companies from using invisible pixels to track user activity. According to Apple, "The new feature helps users prevent senders from knowing when they open an email, and masks their IP address so it can't be linked to other online activity or used to determine their location." Apple will also introduce a feature called Hide My Email, which will allow users to subscribe to promotional emails from companies using a "cloaked" email address.
These changes will make it more difficult for email marketers to personalize their emails and to track the efficacy of their marketing efforts. Already, email service providers such as Mailchimp are issuing warnings reminiscent of those issued by Facebook last year.
3) Apple's Impact on Podcast Advertising
Apple's recent moves have led some to speculate about what this could mean for the podcasting space. In August, I attended the Podcast Movement conference in Nashville, where Rob Walch, VP of Podcaster Relations for Libsyn, gave a session titled, "Yes That Marketing Advice For Your Podcast is BS." It's a session that Rob presents every year using updated data from the podcasts hosted on the Libsyn platform. I hadn't seen it in a few years, and Rob is one of the most knowledgeable people in the space and I appreciate his frank style, so I decided to sit in on it.
Most of the session was familiar to me from past years, but towards the end, it took an unexpected turn as Rob shifted his focus to the issue of digital privacy. He launched into a passionate argument that advertising technology which uses the IP addresses of podcast listeners to target them with ads is, in his view, unethical and potentially in violation of international laws such as the EU's General Data Protection Regulation (GDPR). (Rob cited Podsights, a podcast attribution company that uses IP address data, as an example during his session; the company purportedly ended its relationship with Libysn in response to Rob raising these questions.)
Rob made another observation during his session: The morality and legality of podcast ad targeting may be a moot point if Apple decides to address this privacy issue on their own. After all, Apple has long been the dominant player in the podcasting space. According to Libsyn, iOS devices are responsible for nearly four times as many podcast downloads as Android devices. If Apple suddenly decides that it will no longer allow podcasters to target ads based on listeners' IP addresses, companies that rely on this monetization model may be forced to scramble. Given that most podcast metrics use listeners' IP addresses, this could have a significant impact on the industry.
Apple is taking tough stances when it comes to the privacy of its customers, and given Apple's size, these moves will reshape marketing tactics for years to come. How this will affect broadcasters remains to be seen, but media companies should pay attention to the issue of privacy.
For more assistance on digital or social media, contact MAB Member Services at mab@michmab.com or 1-800-968-7622.
Editor's Note: The views and opinions of this article do not necessarily reflect those of the MAB. Contact the MAB for information on the MAB's official editorial policy.