64 Michigan Stations Air Governor Whitmer's State of the State Address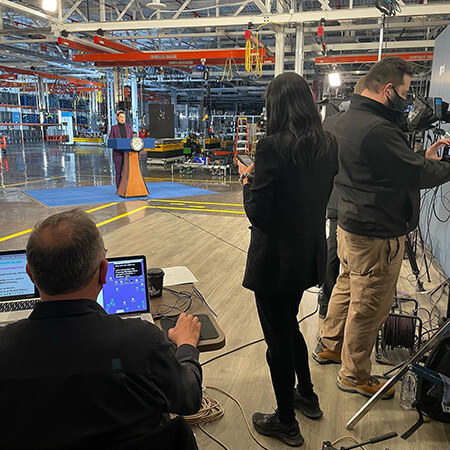 We are proud to announce that 64 Michigan broadcast stations – 30 television and 34 radio – carried the Governor's 2022 State of the State address this past Wednesday (1/26) night.
The list of stations includes members of the MAB as well as the Michigan Association of Public Broadcasters (MAPB). The MAB provided commercial television broadcasters with a "clean" feed of the Governor's address which was delivered remotely from the factory floor of Detroit Diesel.
The MAB thanks the crew at WDIV-TV in Detroit, who provided the staff and resources to deliver the Governor via satellite to the entire state. Special thanks go out to WDIV Vice-President and General Manager Bob Ellis and News Technical Operations Manager Ian Rhodes for their assistance and guidance.
"I first want to compliment [WDIV] for airing the State of the State and working with us to produce it. It was an incredible effort on behalf of everyone at the station," said Governor Whitmer on Thursday.
Again this year, through the cooperation of the Michigan Public Radio Stations, MAB's commercial radio broadcasters were invited to use either the WLNS clean feed audio or the hosted coverage provided by the Michigan Public Radio Network (MPRN). MPRN fed their coverage, anchored by MPRN Managing Editor Rick Pluta with Michigan Radio's Laura Weber Davis.
Public television stations had their traditional coverage of the address anchored by longtime Senior Capitol Correspondent Tim Skubick and panelists from the capitol press corps and guests provided analysis following the address.
Following is the roster of stations who devoted time on-air and/or streaming to better inform the citizens of Michigan: (Did we miss your station?  Let us know: dkelley@michmab.com)
Television
Radio
Alpena WBKB-TV
Alpena WCML-TV
Bad Axe WDCQ-TV
Cadillac WCMV-TV
Cadillac WFQX-TV
Cadillac WMNN-LD
Detroit WDIV-TV
Detroit WJBK-TV
Detroit WKBD-TV
Detroit WTVS-TV
Detroit WXYZ-TV
Flint-Saginaw WBSF-TV
Flint-Saginaw WEYI-TV
Flint-Saginaw WJRT-TV
Flint-Saginaw WNEM-TV
Grand Rapids WGVU-TV
Grand Rapids WOOD-TV
Grand Rapids WXMI-TV
Grand Rapids WZZM-TV
Kalamazoo WGVK-TV
Kalamazoo WWMT-TV
Lansing WILX-TV
Lansing WKAR-TV
Lansing WLNS-TV
Lansing WSYM-TV
Manistee WCMW-TV
Marquette WJMN-TV
Marquette WNMU-TV
Mt. Pleasant WCMU-TV
Traverse City WPBN-TV
Adrian WLEN-FM
Alpena WCML-FM
Ann Arbor WUOM-FM
Bay City WUCX-FM
Cadillac WATT-AM
Coldwater WTVB-AM
Detroit WDET-FM
Detroit WWJ-AM
Escanaba WNMU-FM Translator
Flint WFUM-FM
Grand Haven WGHN-FM
Grand Rapids WGVU-FM
Grand Rapids WVGR-FM
Harbor Springs WCMW-FM
Harbor Springs WHBP-FM
Holland WHTC-AM
Kalamazoo WKZO-AM/FM
Kalamazoo WMUK-FM
Lansing WJIM-AM
Lansing WKAR-FM
Leland WCMV-FM
Manistee WLMN-FM
Manistique WNMU-FM Translator
Marquette WNMU-FM
Mt. Pleasant WCMU-FM
Muskegon WGVS-FM
Oscoda WCMB-FM
Port Huron WRSX-FM
Sault Ste. Marie WCMZ-FM
St. Joseph WSJM-FM
Standish WWCM-FM
Stephenson WNMU-FM Translator
Traverse City WICA-FM
Traverse City WTCM-AM