Why You Should Fill Your Website With Text, Not Your Emails
By: Seth Resler
Jacobs Media Strategies
Email marketing is a crucial component of your digital strategy. When used effectively, an email newsletter can get people to return to your website, tune in to your radio station or show up to station events. You should use email to engage with your audience on a regular basis.
But these emails should be short.
I sometimes see radio stations send out emails that contain large amounts of text — paragraph after paragraph detailing every event, every promotion, every contest, every upcoming morning show guest, etc.
If you're going to take the time to write text, write text that lives on your website, not in your emails. Instead, your emails should contain little text and then encourage people to click a link to read more on your website.
Here are five reasons why:
1. People Don't Like to Read Long Emails.
Do you?
2. You Can't Measure the Effectiveness of Text-Heavy Emails.
With email, the two most important metrics to track are the percentage of people on the mailing list who open the email, and the percentage of people who click on a link in the email. Unfortunately, using only the first metric, you won't be able to tell the difference between somebody who opens up the email and reads every word carefully, and somebody who opens up the email and gives up after the first sentence. They'll both register as 'Opens.'
To complicate this matter, in the last year, Apple has introduced changes in its operating systems to protect users' privacy.  These changes have impacted email marketers' ability to track open rates.
To get a better idea of whether people are reading — and what they're reading — you want to require them to click a link in order to read more. This way, you're interpreting 'Clicks' as 'Reads' instead of interpreting 'Opens' as 'Reads.' This is much more accurate.
Accurate email statistics are important because they help you refine your digital strategy. If you can't tell which content people are interested in, you're losing out on valuable insight.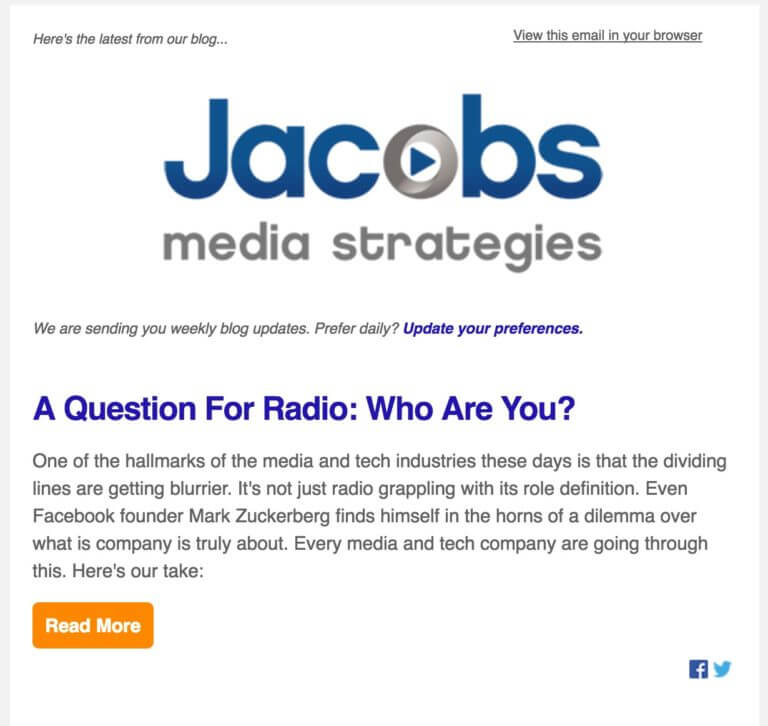 3. Emails are Less Likely to Be Shared on Social Media.
People are much more inclined to click a button to share your webpage on social media than your email. People are simply more accustomed to sharing webpages than emails. They tend to share emails by forwarding them, not posting them on Facebook or Twitter. Email forwarding is personal, as opposed to sharing, which can be seen by other people. So email doesn't present the opportunity for a piece of content go viral the way a page on your website might.
4. Email Text Doesn't Boost Your Search Engine Rankings.
When you send out an email through your email service provider (ESP), there will be an archived version kept as a webpage that could be crawled by search engines like Google, but that webpage will live on the ESP's website, not your own. As a result, it won't help increase your website's ranking in Google's search results. By keeping as much text on your website as possible, you'll improve your website's search engine rankings and attract more visitors.
5. You Can't Convert People Unless They Click Through to Your Website.
At the end of the day, the goal of your digital strategy is to get people to do something: stream the station, enter a contest, buy tickets to a station event, etc. It is much easier to get them to do that from your website than your email. While you can include links to all of those actions in your emails, people are less likely to take those actions from an email. You have to coax them towards your digital goals with multiple steps. Your website gives you the opportunity to provide multiple steps ("See the full list of bands on our website, then buy tickets…"), while an email only allows you to provide one step ("Hey buddy, d'ya wanna listen to the station or not?").
If you're going to invest time in writing content, make sure that content lives on your website, not in your emails. Instead, create short emails that encourage people to click back to your website. It will benefit your station in the long run.
For more assistance on digital or social media, contact MAB Member Services at mab@michmab.com or 1-800-968-7622.
Editor's Note: The views and opinions of this article do not necessarily reflect those of the MAB. Contact the MAB for information on the MAB's official editorial policy.