Amazon Has Made It Easier for Radio Stations to Build Alexa Skills
By: Seth Resler
Jacobs Media Strategies
Smart speakers can be a small but important source of streaming for radio stations. We recently published the results of Techsurvey 2022, the radio industry's largest online survey of radio listeners. The data shows that while smart speaker growth has stalled among radio listeners, 35% of respondents report owning a smart speaker — a significant portion of the listening audience: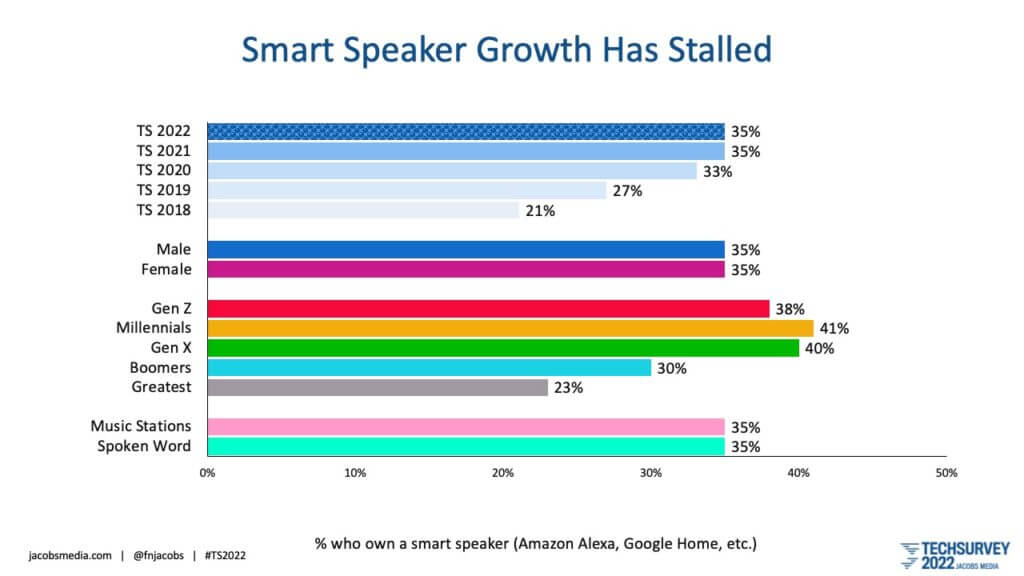 More than a quarter of our survey respondents report streaming their favorite radio station on a smart speaker: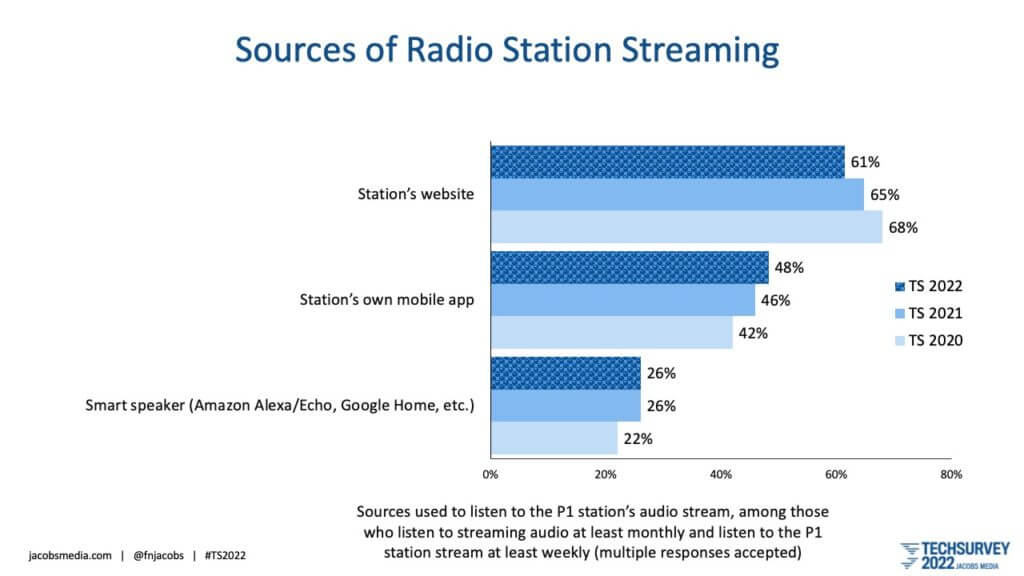 In the United States, the overwhelming majority of smart speaker owners have Alexa devices from Amazon: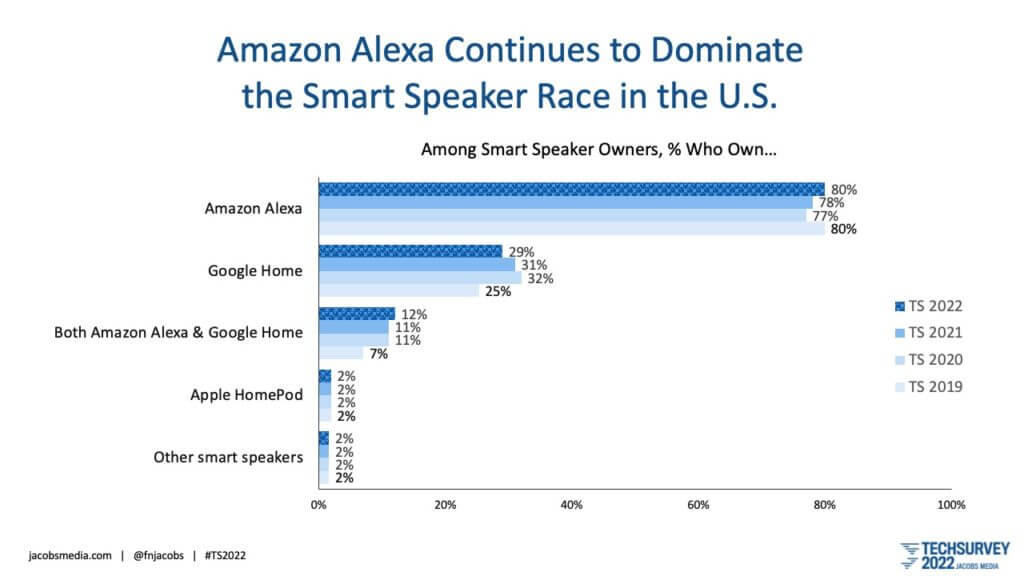 This small but significant share of streaming on Alexa devices is why we believe it is important for radio stations to make sure that their listeners can easily call up their streams. In the past, this involved the technical process of creating (or hiring somebody to create) an Alexa skill. However, in a little-publicized announcement before Christmas last year, Amazon announced that it was simplifying the process for radio stations by introducing the Alexa Radio Skills Kit, or RSK. In the past, it could take months to onboard a radio station with an Alexa skill; now the process is much easier and quicker.
Perhaps most significantly, the new process allows stations to be called up by invoking the station's name, an alternate station name, a call sign or a frequency. In the past, some stations needed to employ very specific terminology in the invocation because they shared a name with other stations. Amazon has resolved this by using "location-based search to further improve the accuracy in playing the correct station to match a customer's request."
When a radio station sets an RSK, listeners do not need to enable the skill in order to call up the radio station.
In the past, a station would never know exactly how its stream might be called up. Alexa might play the station's direct stream, but it also might play the stream through an aggregator like TuneIn. Amazon now says:
Stations can coexist as an RSK station and an entry in an aggregator catalog. Your new RSK station will be marked as "owned and operated." The customer request will route to the owned/operated station above routing to the aggregated station. If your RSK station is unavailable/down, the customer request will then route to the aggregated station.
For people who like waking up to their favorite radio station, Amazon says:
Routines/alarms are supported on RSK stations. Customers can choose a station to play in a routine/alarm by entering the station name in the Alexa app or requesting it by voice (e.g, "Alexa, set an alarm for 7am to play KEXP."). Customers do not have to choose a provider to play the station. Requests will route to the RSK station before the aggregator station, provided the customer does not enter an aggregator name in the optional "provider" field or request one by voice.
The RSK also offers radio broadcasters access to some new metrics that were not available with custom skills in the past: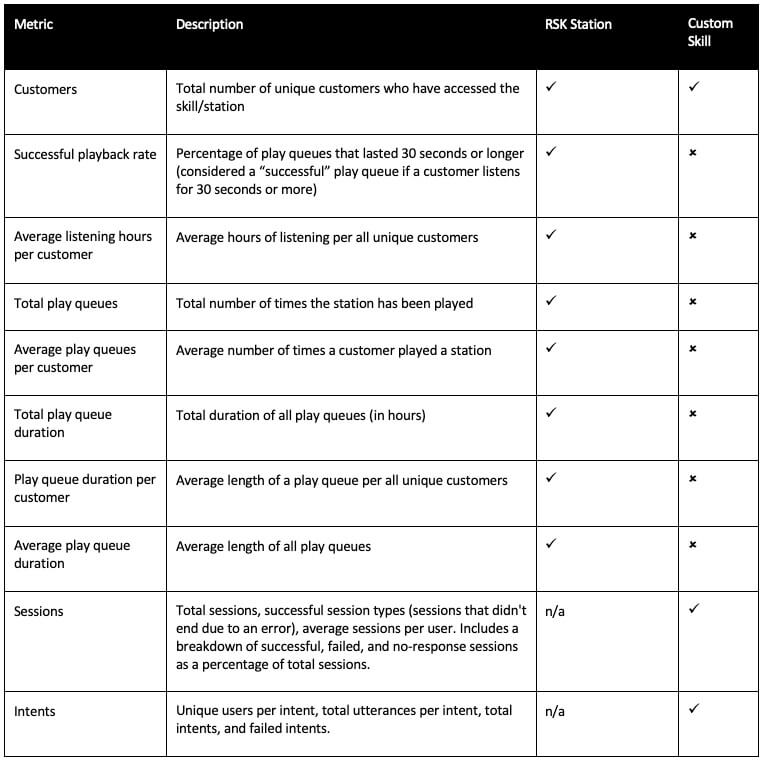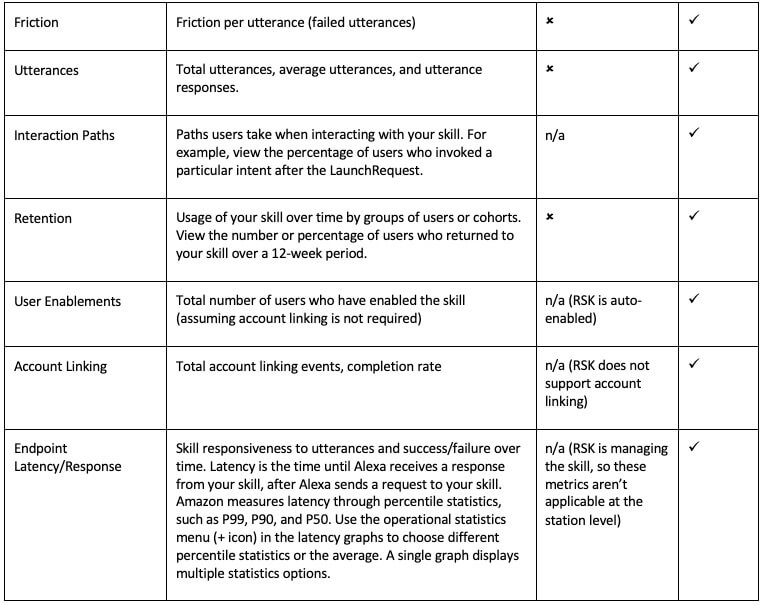 If your radio station has already built an Alexa skill, that skill can be deprecated when you set up an RSK. This involves a two-step process outlined in Amazon's support documents for the new RSK.
The RSK is available for stations in the United States, Brazil, Spain, Italy, France, Germany/Austria, Great Britain, Canada, Mexico and Australia/New Zealand. While the RSK will work for web-based radio stations, there are limitations. It was designed with terrestrial radio stations in mind, and obviously web-based stations will not benefit from location-based search to call up the correct station.
So how can your radio station take advantage of Amazon's new Radio Skills Kit? Simply send an email to rsk-onboarding@amazon.com. In short order, you will receive a response with support documents and an Excel sheet to fill out. For the most part, the questions asked are very simple. However, you will need to have some artwork ready:
X-Small Image (48×48 pixels)
Small Image (60 x 60 pixels)
Medium Image (110 x 110 pixels)
Large Image (256 x 256 pixels)
X-Large Image (600 x 600 pixels)
If your radio station has not set itself up on Alexa yet, now is the time. After all, it's never been easier.
For more assistance on digital or social media, contact MAB Member Services at mab@michmab.com or 1-800-968-7622.
Editor's Note: The views and opinions of this article do not necessarily reflect those of the MAB. Contact the MAB for information on the MAB's official editorial policy.