Nexstar Michigan Stations Host Republican Gubernatorial Primary Debate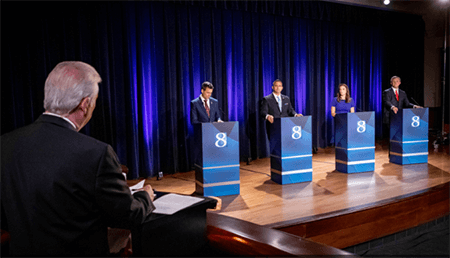 On July 6, Nexstar Media stations in Michigan hosted a statewide multi-market live telecast of a debate between the candidates for the Republican Party's nomination for Governor of Michigan. "Your Local Election Headquarters Michigan Gubernatorial Primary Debate" was held on location in downtown Grand Rapids.  The one-hour debate, followed by a 30-minute extended live digital stream, brought together viewers across Michigan and aired on three Nexstar television stations, including WOOD-TV (Grand Rapids), WLNS-TV (Lansing) and WJMN-TV (Marquette).  In addition, WDIV-TV (Detroit) and WWTV-TV (Cadillac) also aired the debate.
The debate was anchored by WOOD-TV political anchor Rick Albin, who posed questions to the candidates focused on current local and regional issues impacting communities across the state.
Participating candidates for the live event included Tudor Dixon, Kevin Rinke, Garrett Soldano, and Ryan Kelley. The candidates were asked for their views on the economy, abortion, school safety and gun control and other important topics impacting Michigan.