How Radio Stations Can Use QR Codes
By: Seth Resler
Jacobs Media Strategies
The COVID-19 pandemic changed the way many Americans behave. Among those changes is a significant increase in the use of QR codes. An eMarketer Insider Intelligence report estimates that "the number of U.S. smartphone users scanning a QR code will increase from 83.4 million in 2022 to 99.5 million in 2025."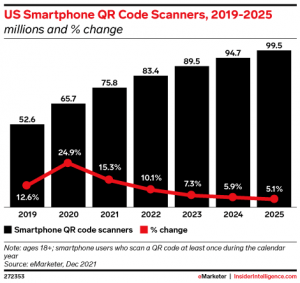 The popular adoption of QR codes presents an opportunity for radio broadcasters in the U.S.
What is a QR code?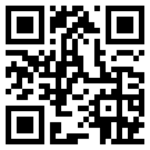 A QR code is a two-dimensional barcode that can be read by smartphones and other devices. The code typically contains a url or other information that can be accessed by scanning the code. QR codes are often used for marketing purposes, as they can be used to direct users to a website or online content.
To read a QR code, you will need a QR code reader, which can be downloaded for free from the app store on your smartphone. Once you have installed the reader, simply point your phone's camera at the code and it will be scanned automatically. The information encoded in the QR code will then be displayed on your screen.
You can create a QR code using any number of websites. Hubspot has a good breakdown of the different options here.
What should a radio station's QR Code point to?
Don't assume that a QR code should link to your radio station's homepage. Depending on where the QR code appears, you may want it to link to one of these:
The station's mobile app: Use the QR code to encourage people to download your radio station's mobile app so they can listen on the go. It's a best practice to create a contextual link that detects the user's operating system and responds accordingly, sending Android users to the app in the Google Play store and iOS users to the app in Apple's app store.
The station's stream: Create a QR code that allows people to "Listen Now."
An email signup form: Use QR codes to grow your radio station's email database.
A contest entry form: Hosting a big contest? Use QR codes to drive entries.
The morning show's webpage: Promote your radio station's morning show using QR codes.
Specialty show pages or podcasts: For example, on the posters for your annual Battle of the Bands competition, include a QR code to the webpage for your local music show.
Social media accounts: Use QR codes to encourage people to follow your station or on-air personalities on social media.
Exclusive content: Use QR codes to direct people to exclusive content. For example, at a major concert, your street team can use QR codes to direct people to hear your DJ's interview with the headlining artist.
A page where listeners can donate: Christian and public radio stations can use QR codes to drive donations.
"Advertise With Us" page: The sales team can use QR codes to encourage clients and potential clients to visit a page that gives them more information about advertising on the station.
Of course, the QR code doesn't need to drive listeners to just one page. It could send them to a menu where listeners can choose the page that is most appropriate for them. For example, if you have created a Linktr.ee menu for your Instagram profile, you could link to it with a QR code.
If your QR code is going to be used in a permanent location — for example, if you are painting it on the side of your station's van — you may want to use a URL redirect that gives you flexibility down the road (pun totally intended). For example, you could direct the QR to to wkrp.com/qrcode, and in your website backend, redirect that URL to wherever is most appropriate. If that changes down the road, you can just change the redirect, which is far easier than repainting the van.
Where should your radio station use QR codes?
Your radio station can use QR Codes in any number of places, including:
Billboards, Bus Signs and Restrooms: If your station is running an outdoor or indoor advertising campaign, use a QR code to drive people to the stream, the morning show page or the contest that you're promoting.
Direct Mail: While I love new technology, I still believe there's a time and a place for a good old fashioned direct mail campaign — especially in conjunction with a big radio contest or pledge drive. But instead of overloading a postcard with text, use a QR code to direct people to a page where they can enter to win or make a donation.
Subways and Public Transportation: If your station is in a city where people travel underground and don't have the ability to listen to the station over the airwaves or online, direct them to a podcast that they can download before they start their commute.
The Station Van: This is a great place to put a QR code, but as noted above, use a redirect to build in flexibility.
Station Banners: Add a QR code to your radio station banners. Depending on how fast your station goes through banner-on-a-roll, you may want to use a redirect to give yourself some flexibility.
Wristbands and Hand Stamps: Whether your station is producing its own concerts or teaming up with the local promoter, create QR codes that can be used on the wristbands or hand stamps that patrons receive when they enter.
Business Cards: Your account executives can include QR codes on the back of their business cards or other printed materials that directs clients or potential clients to advertising-related resources on the station's website.
Tips for Using QR Codes:
Test the code often: Test the code to make sure that it works before committing to using it in print. Some QR creators require a paid subscription to reserve your code, so check the code often to ensure that it hasn't expired.
Use a clear call to action: Always include text printed above or next to your QR code that explains where it will take people to.
Consider the context: Think about where people will be when they see your QR code. Will they have easy access to their phones? Will they be in a position to listen to the station or read a lengthy webpage? Are they likely to be imbibing alcohol? All of these factors will affect how they use the codes. In many cases, you will not know the exact circumstances, so you will want to make the code as flexible as possible.
Consider the lifespan of the code: Making changes to a website is easy; Makes changes to printed materials is much more difficult. When committing a QR code to print, think about how long the printed materials will be around and how long the destination of the QR code will be relevant.
Track the analytics: Many QR creators come with built-in analytics that allow you to see how many people are using them. This will tell you whether your campaigns are effective or not.
QR codes are a quick and easy way for radio stations to connect with their listeners. By including a QR code on each station's campaigns and assets, listeners can instantly access additional information about the station and its programming. QR codes can also be used to promote special events or giveaways, and they provide an easy way for listeners to connect with the station on social media. In addition, QR codes are a great way to reach out to new listeners and encourage them to tune in. With so many benefits, there's no reason not to use QR codes to connect with radio station audiences.
For more assistance on digital or social media, contact MAB Member Services at mab@michmab.com or 1-800-968-7622.
Editor's Note: The views and opinions of this article do not necessarily reflect those of the MAB. Contact the MAB for information on the MAB's official editorial policy.