WEMU Gets Visit From NPR President and CEO
On Wednesday, August 17, NPR President and CEO, John Lansing, dropped in for an informal visit with WEMU-FM (Ypsilanti). Lansing has Michigan ties with newsroom stops in Kalamazoo and Detroit, but is relatively new to public broadcasting. Discussed was WEMU's hyper-local news focus in Washtenaw County and the important niche it fills for a highly educated and engaged community that has no local TV and no daily newspaper.
Coming from a news background, Lansing remarked that he was unfamiliar with music programming but eager to learn more. He was wowed by WEMU's impressive broadcast library that contains well over 100,000 jazz and blues tracks and is arguably the largest jazz broadcast library in the country.
Lansing also remarked on the positive energy he felt while touring the station. He felt the creative vibe that characterizes WEMU as the community NPR station. "This place feels real. It feels authentic."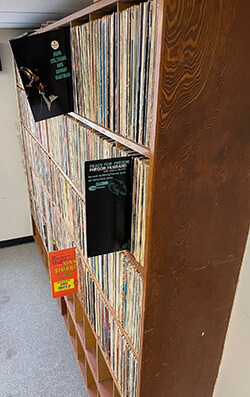 Before leaving, Lansing asked what he can do for WEMU. The station told him to just remember WEMU among the other mid sized stations that make up the backbone of NPR and to remember the valuable resources they provide to their communities.
He congratulated WEMU on 45 years of jazz broadcasting and promised to send a selfie in his 45th anniversary t-shirt!