Former WNEM-TV Reporter, Weekend Anchor Dies After Battling Cancer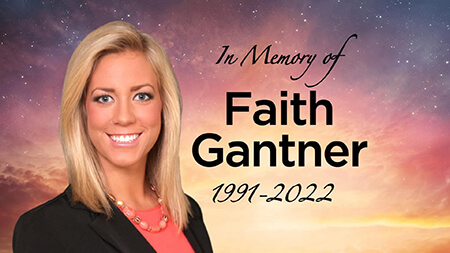 WNEM-TV shared the news with viewers that former reporter and weekend anchor Faith Rempe (known as Faith Gantner to the WNEM audience) died September 28 after an 11-month battle with cancer.  The 31-year-old worked at the station from 2013 to 2016.
Rempe was diagnosed with a rare blood cancer in October 2021. She documented her fight against cancer on her Facebook page "Faith's Fight."
She leaves behind husband Kurt and their two little boys, ages 3 and 1.
"While we are devastated that we will no longer have her beautiful smiling face near us, we can celebrate the fact that we know she no longer has any pain and we will see her again in eternity," her husband wrote in a Facebook post.
Rempe was born in Bay City and grew up in Midland.  After high school. she attended Central Michigan University obtaining a bachelor's degree in broadcast journalism. While at CMU, Rempe won Best News Anchor and Best Multimedia Journalist awards for two years in a row.  She was hired by WNEM just before graduation.
In 2017, Rempe moved to WNEM's sister station in Las Vegas, Nevada (KVUU-TV) where she continued to work as a report/weekend anchor.
On October 1, 2017, near the end of her evening shift anchoring the 10 p.m. news, the call came into the station about a horrific shooting at Mandalay Bay. She stayed on the air throughout the night for another 9 hours to bring the latest news about One October and received an Emmy nomination for that coverage.
On September 29, WNEM paid tribute to their former colleague: