Black Diamond Stations "Blanket the North" for Warmth & Comfort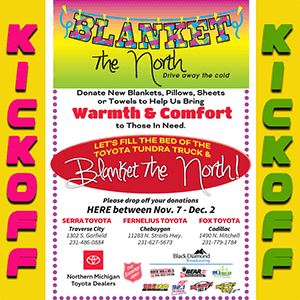 On November 7, the stations of Black Diamond Broadcasting kicked off their annual "Blanket the North" campaign to collect newly-purchased blankets, sheets, pillows and towels for the less fortunate in Northern Michigan.
The station is working with area Toyota dealers, who are serving as collection points.  Everything donated for Blanket the North will be distributed directly and 100% to local people in need and shelters throughout each local area.  The items collected will be distributed through the Salvation Army.
The collection effort continues through December 2.