WTCM's Joel Franck to Retire After 50-Year Career
After 26 years as WTCM's (Traverse City) News Director, and over 50 years serving the radio industry, Joel Franck will retire on December 9.  Franck is a graduate of Brown Institute of Radio & Television Broadcasting in Minneapolis and served as Sports Director at KGW-AM in Portland, Oregon for nearly 13 years.
His play-by-play experience began at the age of 16 when his passion for sportscasting led to a part-time job at the local radio station as a board-op and later play-by-play with the local high school basketball, football and hockey teams, plus Class A minor league baseball. Franck and his long-time co-host Tim Brick have been broadcasting Traverse City Central and West High School football games for over 25 years, recognized in 2021 by the State's Legislature.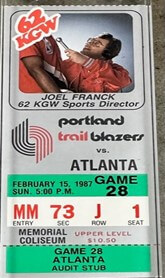 "Joel is the quintessential broadcaster. He has worked tirelessly for decades to provide important news and information to Northern Michigan. Beyond that, listeners enjoy and appreciate his quick wit and comforting voice that have been so meaningful, especially during these trying times. Joel has worn a tie to work every day, without exception, displaying the great respect he has for his craft, and for our industry," said Chris Warren, General Manager of Midwestern Broadcasting Company.
Franck's final broadcast on WTCM Radio will be on the main stage of Traverse City's Community Theater, the Old Town Playhouse. The community is invited to come watch this radio show from 6 - 9:00 a.m.
Franck looks forward to spending more time with his wife, children and grandchildren.