Dear Radio Industry: Yes, You Can Ditch Twitter
By: Seth Resler
Jacobs Media Strategies
Twitter is a mess. Since Elon Musk purchased the social network, the company has seen mass firings, a failed blue-check initiative, draconian ultimatums, a mass exodus of the remaining employees and the unbanning of rule violators. Musk, who embodies the hustle-and-grind culture that was so in vogue prior to our pandemic recalibrations, has lost much of his shine during the ordeal.
The drama of Twitter's implosion raises many of the same issues that we face in the radio industry. In practice, many of us are being asked to put in the same long hours that Musk is demanding of his employees.
Twenty years ago, when I was the off-air Music Director at 107.7 The End in Seattle, we had an off-air Program Director, an off-Air Assistant Program Director, an off-air Promotions Director and an off-air Assistant Promotions Director. Today, this is unheard of — even in large markets. Throughout our industry, people are responsible for job duties that were once handled by multiple people.
In our annual Air-Talent Questionnaire, we asked radio personalities how many "hats" they wear in their radio station: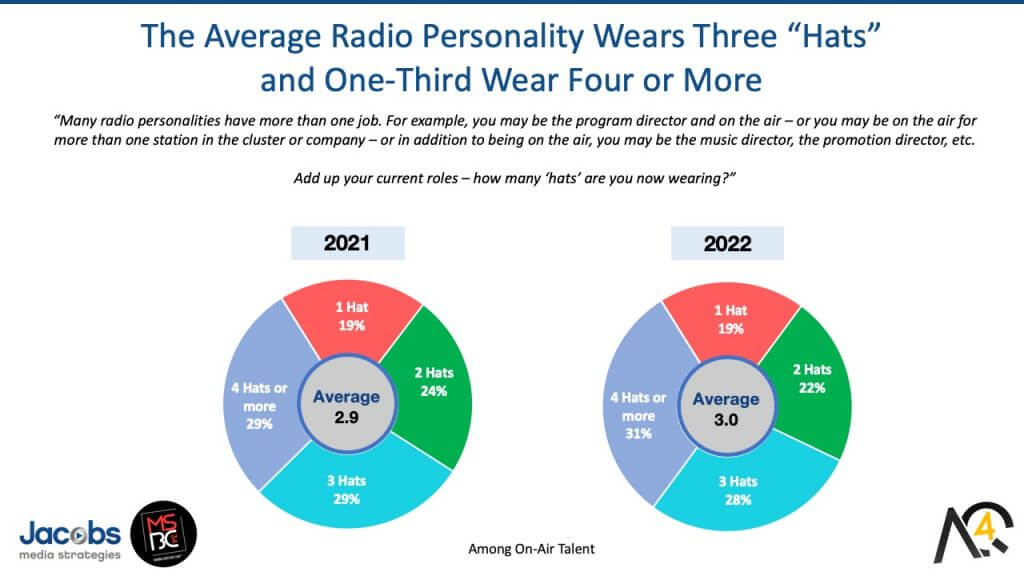 Which means that many of us are already meeting Musk's demand that we work "long hours at high intensity." In fact, the amount of work our on-air talent has been asked to do has grown since the pandemic began: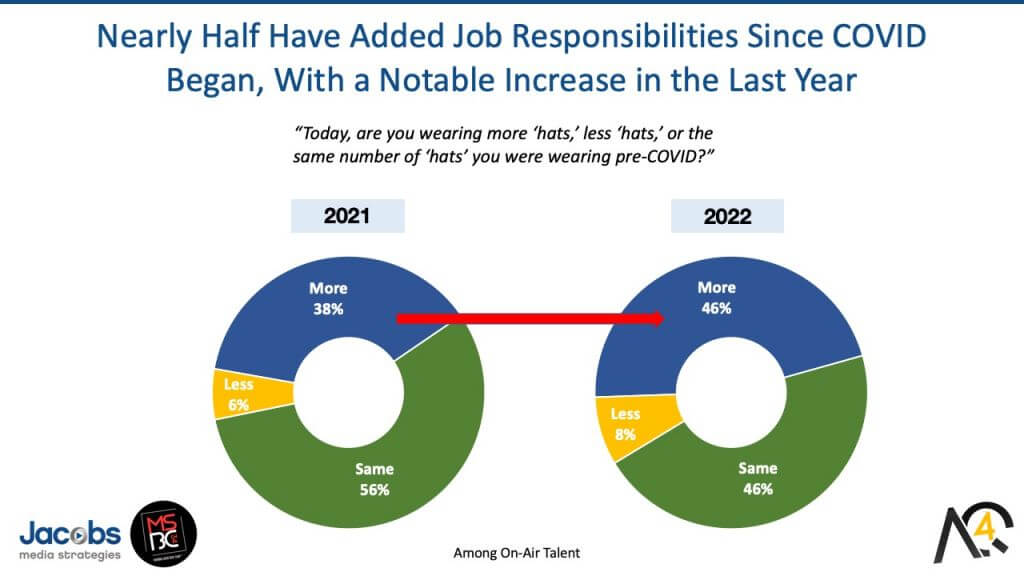 Not surprisingly, this has a notable affect on our on-air talent's ability to achieve a work/life balance: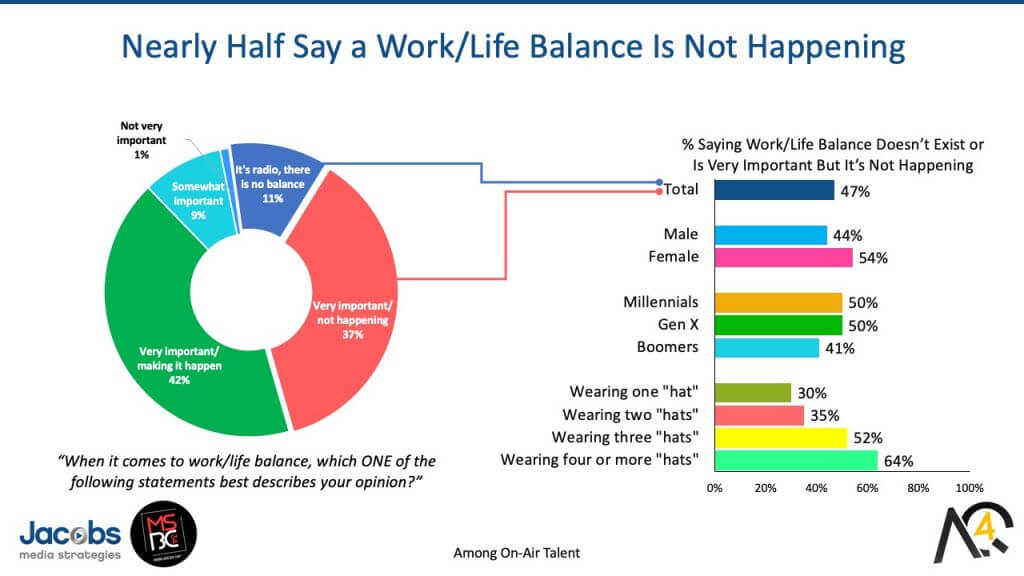 We're all trying to do more with less.
Allocate Your Resources

Which means that working in the radio industry these days is a game of resource management. We can't do everything. We simply don't have the bandwidth. So as broadcasters, we're forced to make strategic decisions. In the digital space, this might mean focusing on email marketing instead of Clubhouse, or mobile app strategy instead of text messaging.
It can also mean choosing to focus your efforts on one social network instead of another.
For years, I have watched the relief that washes onto broadcasters' faces when I tell them they don't need to do everything. "It's okay to prioritize," I say as they exhale. "It's okay to put something on the back burner for now."
While Twitter was not usually the thing that I relegated to the back of the stove, it could be. After all, we've been tracking social media usage in our annual Techsurvey for a long time, and Twitter is not growing: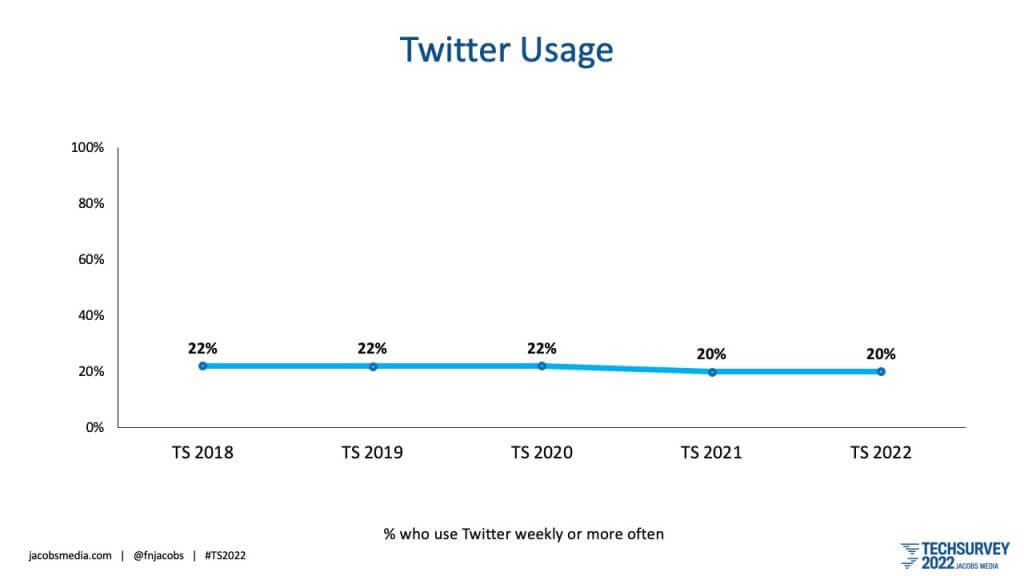 We can compare Twitter's trend line to that of other popular social networks: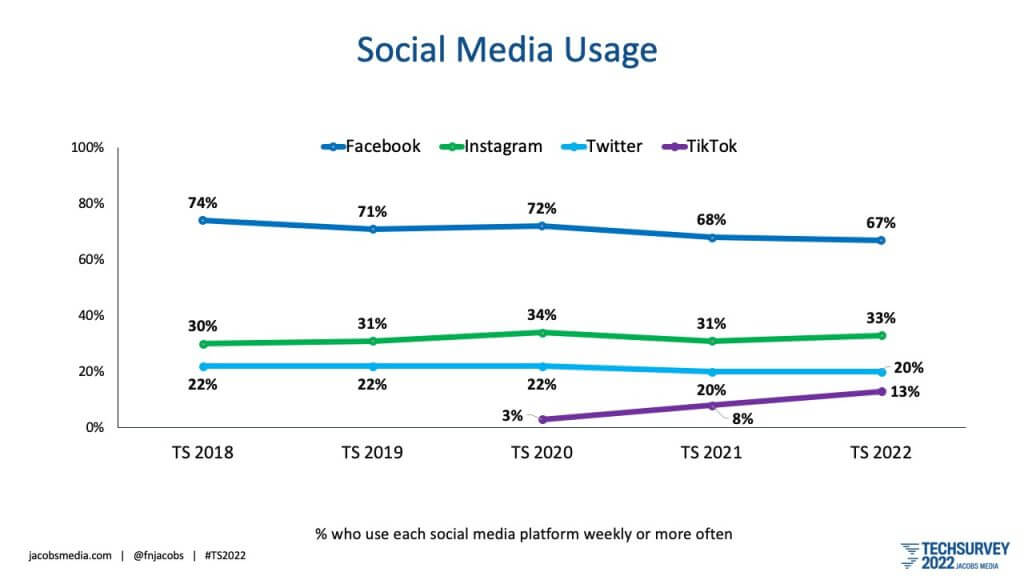 Like Twitter, Facebook has also seen a slight decline in recent years. However, its usage is so far ahead of every other platform that even with the decline, it's probably an important place for radio stations to engage. By contrast, Instagram has seen slight growth. TikTok has seen the most growth in the two years that we have been measuring it, but, being the newest platform, its usage is smaller than the others.
Based on this information, you can see an argument for abandoning Twitter to focus on TikTok.
Of course, these days, there are any number of other arguments that can be made for abandoning Twitter. Brand safety is a concern, especially in light of recent imposter accounts, such as the one that caused Eli Lilly's stock price to decline. And it's not just companies; celebrities have been affected, too. Last week, a hoax about the death of Tonight Show host Jimmy Fallon caused the hashtag #RIPJimmyFallon to trend on Twitter.
Musk's cringeworthy treatment of Twitter's employees in the weeks since he has taken over is enough to shock even those of us who work in an industry that routinely lays off dozens of employees at a time. It's not unreasonable for companies to be concerned that the drastic reduction in Twitter's headcount could adversely affect the reliability and safety of the platform. Perhaps that's why a number of companies, from General Mills to General Motors, have paused their advertising on Twitter. CBS News went a step further and temporarily paused its tweeting out of concerns about security.
If Twitter is working for you, by all means, continue to use it. Generally, sports and news/talk stations tend to benefit most from the platform. Some on-air personalities have also learned how to effectively leverage the platform to generate content for their shows or to keep in touch with fans. If this describes you, carry on as long as you continue to see the same return on the investment of your time.
But if you don't already fall into that camp, don't feel obliged to keep trying. I know of no radio station that owes its success to Twitter. I have never seen a bounce in the Nielsen ratings due to a tweet. I know of no broadcasting company that relies on Twitter for a significant portion of its revenue.
I do, however, know of on-air personalities who were fired after posting ill-advised tweets. I can think of more examples of broadcasters who were damaged by Twitter than I can of broadcasters who succeeded because of Twitter. The risks may outweigh the rewards.
To be clear: I am not arguing that your radio station should abandon Twitter; I'm simply saying that it can. If you're experiencing discomfort with the platform, don't feel compelled to use it just because you're "supposed to." It's okay to reevaluate from time to time, to try new platforms that show promise and drop older platforms that are no longer working for your station. If you need permission, here it is.
How to Ditch Twitter
You don't need to announce your departure from Twitter to the world. If you want to leave the door open for a possible return should the company turn around, there are ways to do so. One option is to stop short of deleting your station's account and simply stop tweeting. Quietly remove links to your Twitter account from your website, your email templates, your mobile app and your on-air production elements. You could also choose to make your Twitter account private.
If you or your station does decide to delete its account entirely, download an archive of your tweets before you go. You can find instructions here.
We are already seeing people migrate to other platforms, such as Bluesky and Mastodon. Feel free to experiment with these social networks if you have time. It's a good idea to create an account to reserve your handles on these platforms, but don't feel pressure to invest a lot of time here if you don't have the capacity. Focus your efforts on more popular social networks.
Whether or not you ultimately choose to continue with Twitter, it's certainly a good time to reevaluate your station's relationship with it. If you do choose to part ways with the platform — whether its for reasons of brand safety, mental health or worker solidarity — don't fret. It's unlikely to do your station any harm in the long run. All good things must come to an end. Perhaps it's just Twitter's time.
For more assistance on digital or social media, contact MAB Member Services at mab@michmab.com or 1-800-968-7622.
Editor's Note: The views and opinions of this article do not necessarily reflect those of the MAB. Contact the MAB for information on the MAB's official editorial policy.ent for your post here.  You can use the page editor tools to add more content areas and content types.