My 1043 "Fills a Mayflower" for Those in Need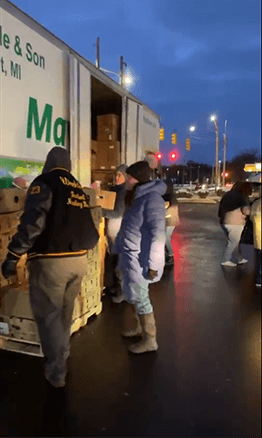 On November 18, Latitude Media's WCZY-FM (My 1043), WMMI-AM/FM and MyMichiganPodcasts.com (Mt. Pleasant) along with The United Way of Gratiot & Isabella Counties and I-Ride held the annual "Fill a Mayflower" event, collecting non-perishable food items and cash donations from the community.  This year the effort helped collect over 15,000 non-perishable food items (that filled the truck and then some), and more, including personal care items for the Care store in town, plus over $7,000 in cash.
The station sends special thanks to Annie Sanders and The United Way of Gratiot & Isabella Counties, for providing the platform and distribution services (including all of our tireless volunteers for collecting, sorting & distributing the food items). To I-Ride, for allowing us to have the I-Ride buses collect food donations from people's homes this year. Sowle Mayflower, for donating their huge truck, for the entire day. Thanks also go to Rics Food Center for providing the location, the incentives with the Groceries-to-Go promotion & their annual Hi-Five Turkey Drive where they donated a record number of (over 100 turkeys & hams) to those in need this year. In addition, there were many other local businesses and individuals who put out the challenge to each other and collected these items over the past year.  The station also had "Hourly Sponsors" who made it an even bigger event this year with their donations to our annual event!
"United Way is blown away by the amount of community support that we received through this years Fill-a-Mayflower event. Thank You to the donors, community partners and volunteers who all contributed to making this a successful event! Because of the generosity of those involved, our community members in need will have food on the table during this holiday season," says Annie Sanders, President of United Way of Isabella & Gratiot Counties.
"We are super proud & excited the magic that continues to radiate in & throughout our Mid-Michigan communities from year to year with this amazing event we hold! Our local residents always step up in huge ways for the common good of those in need in our local area, makes us very proud to be part of the Mt. Pleasant area" says Latitude Media's Operations Manager/Morning Show Host, Shawn Powers.