Kelley-Cawthorne Announces Merger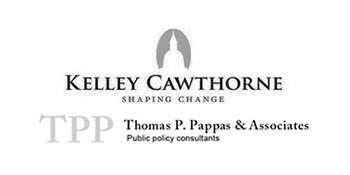 MAB's Lansing-based lobbyist firm Kelley Cawthorne has announced its merger with Ohio-based Pappas & Associates.  In a press release, the company writes: "With this merger, we will be able to provide our clients with an even higher level of service than we can offer today.  Pappas & Associates is a leading multi-client lobby firm in Ohio's capital city. Kelley Cawthorne is a leading multi-client lobby firm in Michigan's capital city."
The company adds that Pappas & Associates remains Pappas & Associates and will be led by Tom Pappas. Kelley Cawthorne remains Kelley Cawthorne and will be led by Melissa McKinley and Rob Elhenicky.
Thomas P. Pappas & Associates (TPP) was founded in Columbus in 1995 by Thomas Pappas, following a public policy career that began on the staff of the Ohio General Assembly and with major Columbus law firms. The firm represents clients from around the United States at the Ohio Statehouse and before Ohio state government. Its clients include Fortune 100 companies, America's largest retailer, multiple professional sports leagues, major healthcare interests, cutting edge technology entities and more.
Kelley Cawthorne is a privately held, full-service lobby firm based in Lansing, Michigan. Founded in 1999, its extensive roster of major Michigan and national clients serves as proof of its reputation for quality work, knowledgeable lobbyists and high ethical standards. Starting with the belief that change is inevitable, Kelley Cawthorne assists its clients in shaping that change in the fields of healthcare, higher education, energy, retail, mobility, communications and more.