NAB Releases New "We Are Broadcasters" Spots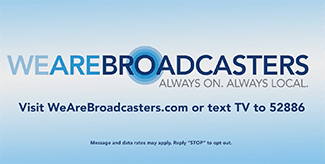 The National Association of Broadcasters (NAB) has released a new series of "We Are Broadcasters" spots for both radio and television.
In a release, the NAB writes, "As we celebrate more than a century of radio and television, we must continue to remind policymakers that local broadcasting is an ever-evolving medium with staying power. We are constantly innovating to deliver trusted information and entertainment to our audiences in convenient, modern and familiar ways."
The organization urges stations to send a powerful message to policymakers by airing these spots as often as possible, and particularly during congressional recess periods, which can be found here.
Download the new campaign spots here.