WCSX-FM Celebrates the 45th Anniversary of "Stranger in Town" with "Seger de Mayo"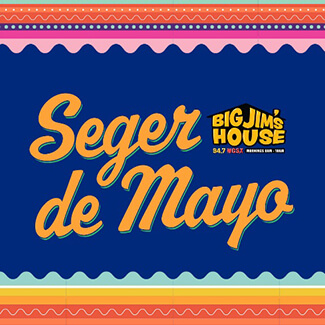 On May 5, Beasley Media Group's 94.7 Classic Rock WCSX-FM marked the 45th anniversary of Rock and Roll Legend Bob Seger's landmark album "Stranger in Town" with "Seger de Mayo"!
The station celebrated the special occasion with a twist on Cinco de Mayo with "Seger de Mayo" 'CSX morning host "Big Jim O'Brien" playing wall-to-wall music from Seger's catalog. In addition, he featured unreleased tracks and interviews collected over the years.
"Bob Seger embodies working class values of Detroit and the entire Midwest in his music, with "Stranger in Town" being perhaps his finest moment," said Beasley Media Group Vice President of National Content and Director of Detroit Programming Scott Jameson. "At WCSX, we honor our Michigan rock heroes every opportunity we get for the enormous contributions they've given our listeners."
"Bob is the Mayor of Michigan, and his relationship with Big Jim's House has included donations of over $200,000 to various statewide charities," said WCSX Big Jim's House Morning Personality Jim O'Brien. "We're blessed to call him a friend."
In 2018 WCSX debuted the first of three Detroit rock star landmarks with "Bob Seger Blvd", located at the iconic Pine Knob Music Theatre. That was followed in 2020 with "Glenn Frey Drive" and 2021's "Alice Cooper Court" on the grounds of a former turn of the century insane asylum.
"I remember the day Capitol Records Rep Craig Lambert walked the record into WRIF," recalled Jacobs Media Strategies Founder and Former WRIF Program Director Fred Jacobs.
"We needle-dropped the entire album and just looked at each other totally stunned. Sometimes you just know you're listening to a masterpiece. We played every track out of the box – and they all held up. 45 years later, "Stranger in Town" has stood the test of time."