Detroit Legend Dave Prince Dies at 91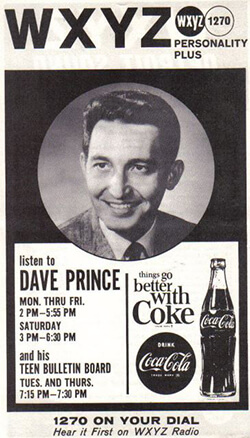 Motor City Radio Flashbacks reports the sad news that Detroit radio legend Dave Prince has passed last week at the age of 91.  Prince spent 45 years in broadcasting, working at WPAG (as Dave Pringle), WKMH, WXYZ, WCAR, WCZY and CKLW. He also hosted Club 1270 for a short period on WXYZ-TV.  Prince got his start at KELP (El Paso, TX) in 1949 before moving to Michigan in 1954.
In the mid-1970s, Dave moved to Los Angeles, CA to partner with Jim Hampton to consulting radio stations, creating 100s of syndicated radio specials featuring interviews with Olivia Newton-John, Michael Jackson, Rod Stewart and more.  Prince also worked at KIIS in LA from 1975-77.
He narrated 'One Solitary Life', a 1971 Christmas release on one of the Motown labels, Rare Earth. Plus, he narrated and produced countless radio and television commercials in Los Angeles and also in the Motor City.