Michigan Radio Welcomes Second "Wait Wait… Don't Tell Me" September 1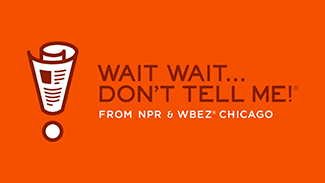 Due to overwhelming demand, Michigan Radio is pleased to welcome NPR's popular news quiz show Wait, Wait...Don't Tell Me to Ann Arbor for a second live show. Fans now have a second chance to see Peter Sagal, Bill Kurtis and their panel live at Hill Auditorium in Ann Arbor on Friday, September 1.
Wait Wait… Don't Tell Me! is NPR's Peabody Award-winning comedy news quiz show. Host Peter Sagal leads a rotating panel of comedians, writers, listener contestants and celebrity guests through a rollicking review of the week's news. Contestants vie for the most coveted prize in all of public radio: a custom-recorded greeting by any of our cast members for their voicemail. These shows are part of The Ann Arbor Summer Festival (A2SF) and their 2023 season.
Tickets for the first Ann Arbor show (August 31, 2023) are sold out with exception of a few remaining special Meet & Greet packages through Michigan Radio. Meet & Greet packages for the second show (September 1) are available while they last. Meet & Greet packages include great tickets to the show and passes to a special post show reception with Peter Sagal and panelists. For more information click here.
Media sponsors for this show are Michigan Radio and WEMU.
Wait Wait…Don't Tell Me!, produced in Chicago, takes the show on the road to a number of cities each year. The live show recorded in Ann Arbor will be broadcast on Saturday, September 2, 2023 on Michigan Radio and other NPR stations nationwide. The program has an audience of 4 million listeners weekly and airs on 700 NPR stations nationwide.