Former WLUC Chief Engineer Dies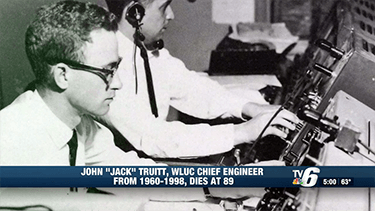 Gray Television's WLUC-TV (Marquette) reports that former station Chief Engineer John "Jack" Truitt died August 9 at the age of 89.  Truitt was the chief engineer at WLUC for 38 years, from 1960 until 1998.
Truitt began working at WLUC when he was 26, four years after the station signed on. The U.S. Army veteran took great pride in improving WLUC's over-the-air signal. He also guided the station's relocation of its transmitter and tower.
One of the most significant changes Truitt oversaw was in the late 1960s when broadcasting transitioned from black and white to color. He later guided the station as it transitioned through video formats and into the digital era.
A memorial service was held on Wednesday (8/16) at First Presbyterian Church in Marquette.