Greg O'Connor Inducted into Lumen Christi Athletic Hall of Fame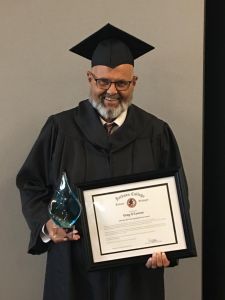 McKibbin Media Group announced honored that Greg O'Connor, longtime employee and award-winning Jackson radio personality, is one of 10 new members inducted into the Lumen Christi Athletic Hall of Fame and was inducted during at halftime of Thursday night's Lumen Christi Varsity football game.
O'Connor, affectionately known by colleagues and listeners as "GOC" is being inducted in the contributors' category. He has won dozens of individual awards from the Associated Press, United Press International, and the Michigan Association of Broadcasters for news and sports reporting as well as his morning show on NewsTalk 970AM / 101.5FM.
He received the Al Cotton Award from the Jackson Citizen Patriot in 2010, the Jackson High School Ambassador Award in 2014, the Jackson College Distinguished Service Award in 2021, and the Dave Mulholland Communication Award from Big Brothers/Big Sisters in 2022.