New Career Center Launches Student Radio Station in Dearborn Heights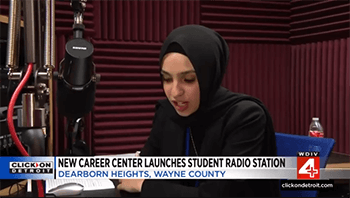 Via WDIV-TV/ClickOnDetroit
It's hands-on learning that students at Star International Academy in Dearborn Heights have never experienced.
Star International Academy unveiled its live radio station and Career Technical Education Center (CTE) on Friday (9/8).
The facility is called The Nest.
"You go through 13 years of schooling, and you're just in a classroom behind a desk with the teacher in front of you writing something on the board," said student Sarah Ameen. "But this is different. I'm sitting in this chair, and I'm learning how to work this equipment."
Ameen is the executive director of the student-run radio station called The Nest Radio. The brand-new studio is part of The Nest.