WLUN Rebrands as "100.9 The Mitt"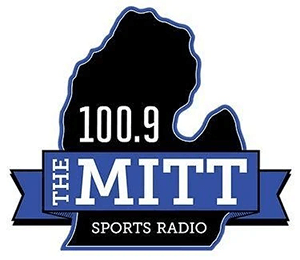 Michigan Radio Communications WLUN-FM (Saginaw) has rebranded from "ESPN 100.9" to "Sports Radio 100.9 The Mitt."   This change took place this past Monday afternoon at 5, following nearly two days of stunting, playing songs with "Fox" in the title including Ylvis "What Does The Fox Say", Sweet "Fox On The Run" and Elton John "The Fox."  The station has added programming from Fox Sports Radio, statewide and regional programs, along with a local evening show.
"The Mitt" features the statewide sports morning show "X's & Bro's," hosted by Anthony Bellino, followed by FSR's "The Dan Patrick Show" (9 a.m. - Noon), "The Herd with Colin Cowherd" (noon -3 p.m.), the Grand Rapids-based "The Huge Show" with Bill Simonson (3 - 6 p.m.), and the locally-produced "The Payoff" hosted by Ben Bosscher (6 -7 p.m.).
The station will continue as the flagship radio station for the Great Lake Loons and will also carry local high school football and basketball games, Michigan State football and basketball, and Westwood One NFL games.
"Our area has such great sports fans and we wanted to re-commit ourselves to them. Fox is a perfect partner for us to get national favorites like Dan and Colin on the air between a local lineup of seven hours of local talk," newly named GM Brad Tunney said in a release. "I'm really excited for our listeners to also re-gain a live local show in The Payoff that they can interact with and lean on for great local sports dialogue."
Tunney has been with the station since 2015 when he joined the Loons broadcast team. Rich Juday continues as Director of Sales and John Vicari is named Broadcast and Content Coordinator and lead play-by-play broadcaster for high school sports. Vicari will continue in his role in the Loons broadcast booth.