Enco Partners with Benztown & Compass Media for Special Ad Creation Tool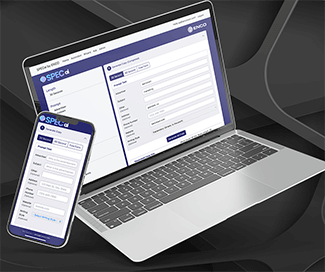 Michigan-based broadcast equipment supplier ENCO has joined forces with Benztown and Compass Media Networks to bring its SpecAI ad creation solution to an expansive customer base in the North American radio broadcast market. The three companies will work together on strategic business development initiatives that emphasize how the technology can help broadcasters create spec ads for sponsors on demand, alleviating the time, energy, and costs of traditional production methods while accelerating the sales process and time to market.
SpecAI leverages generative AI models to create audio content and automate voice tracking for new spots. ENCO demonstrated SpecAI at the NAB Show New York this week.
Compass Media Networks, who will lead the sales and marketing efforts, is among the fastest growing radio networks in North America, offering a large portfolio of branded audio programs that reach tens of millions of listeners daily on broadcast and streaming platforms. Their Yamanair division has been the leader in providing spec commercials and creative services to radio broadcasters over the past decade through their Specbyte and Cash by Creative product lines which currently serve thousands of radio stations. SpecAI will expand this portfolio for local radio sales teams.
"AI adoption has swiftly moved forward over the last few months, and as the largest player in spec commercials for over 10 years we recognized it was time to offer an AI solution for our clients," said Hiram Lazar, Chief Financial Officer, Compass Radio Networks. "Using Benztown's libraries, we can now give our clients the option to produce ads with an AI voice or a live voice to customize prerecorded spec commercials.
Benztown, a longtime ENCO partner, is a global leader in radio imaging, production library, programming, podcasting, jingles, and voiceover services with more than 3,000 affiliations on six different continents. Benztown will supplement Compass Media Networks' sales and marketing efforts with an emphasis on international clients,
Benztown and Compass Media Networks have worked closely with ENCO's engineering team on SpecAI's development. Specifically, Benztown has added their sonic design expertise to the solution, including user-selectable music beds that run underneath the AI voice while Compass Media Networks added their user interface expertise from their Specbyte and Cash by Creative platforms.
SpecAI's workflow is simple. The user, typically an account executive within a media organization, first answers a few questions to determine spot length (30 or 60 seconds), writing style (casual, humorous, uplifting), and sponsor details (company name, address), using a web browser or mobile device. SpecAI generates three scripts to choose from, which users can manually be edited or re-generated through phonetics to perfect the copy. The user then selects their preferred sound of the AI voice and music bed underneath before downloading the final down-mixed audio file. The process can be completed in seconds.
Dave "Chachi" Denes, President and Co-Founder of Benztown, adds that the music options will help set the tone for each spot. "The music in SpecAI is categorized by format," he said. "For example, an account executive for an Adult Contemporary or Rock station has many options to add music that aligns with the client and station's demographic. There will also be themed music available for holidays throughout the year."
ENCO's sales and business development team will also contribute to the collective go-to-market strategy, though ENCO President Ken Frommert believes that the existing relationships that Benztown and Compass Media Networks have with affiliates will ultimately create broader awareness for SpecAI. "SpecAI is a gamechanger because account executives can now walk onto a customer site and create a ready-to-air spec ad in seconds," said Frommert. "Compass Media Networks brings exceptional value through their experience selling human spec ad services, and Benztown is a force in radio imaging and music libraries that we have enjoyed working with for years. We are excited to work together with these companies to bring our vision for AI to the broader radio community."
Early adopters are encouraged to email Nancy Abramson at nabramson@compassmedianetworks.com for more information.