Great Lakes Broadcast & Sports Media Academy a Big Success!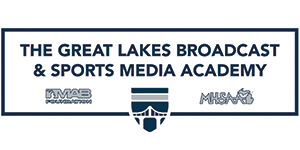 On November 2nd, the Michigan Association of Broadcasters successfully hosted our second annual Great Lakes Broadcast and Sports Media Academy at Ford Field in Detroit.
This year, we welcomed more than 900 students and broadcasters from more than 50 schools.
Since its launch last year, the Academy has attracted nearly 1,600 people which is about 550 more than attended in-person MAB student events COMBINED between 2015-2019 (no in-person student conferences in 2020 and 2021 due to COVID).
This continues to be one of the signature student events run by any state broadcasters association in the country. In fact, the Academy welcomed broadcasters from six different states including the National Association of Broadcasters who brought executive staff to see how the event operates.
The event had six information sessions with 17 broadcasters who spoke to students, opening comment from Lt. Governor Garlin Gilchrist, a keynote with Detroit Tigers' broadcaster Craig Monroe who was interviewed by a student studying broadcasting Sam Prince, and – new this year – were Student Experiences that gave attendees hands-on opportunities of a broadcaster.
You can watch a short recap of the day HERE.
Additionally, a full gallery is now available on the MAB Facebook page HERE.
And finally, Gabriel Peraino, a student from Albion College, wrote a detailed article about their experience. It's worth the read and really touches on every aspect of the Academy from a student's perspective.
The article can be read HERE.
Thank you to the MAB and MAB Foundation Boards of Directors who continue to support and promote our events and initiatives and to all our MAB members who contribute their time and input into the overall success of the industry.
These achievements are not possible without immense collaboration and Michigan's broadcast industry is showing what can be done when stations and the Association work collectively to connect with the next generation.
To pledge your continued support of MAB Foundation events and the future of broadcast media in Michigan, please click here.