Prepare Now: Entries for NAB Crystal Awards Opens January 1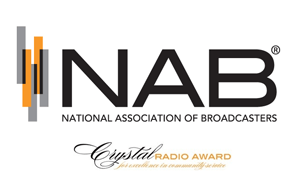 The National Association of Broadcasters has announced the entry window for the 2024 Crystal Radio Awards.  Entries will be accepted January 1-31, 2024 for the awards that honor excellence in community service.  Each year the NAB honors 10 broadcasters throughout the country for their community service efforts.  The Crystal Awards are presented each year at the NAB Show, this year to be held April 13-17 in Las Vegas.
To learn more about the entry process or to enter, go to https://nab.org/crystals.  You may also contact Tobi Hall at the NAB: thall@nab.org.