WLEN & WQTE Raise Thousands for Local Veterans During 2023 Thank-A-Vet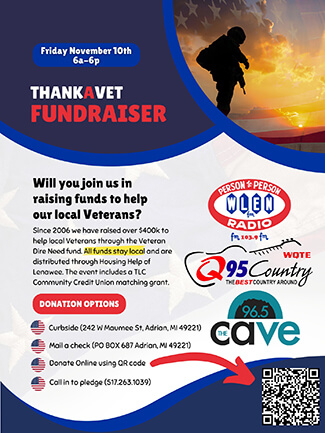 On Friday, November 10, Lenawee Broadcasting Company and Southeast Michigan Media held their annual "Thank-A-Vet" fundraising event outside their studios in downtown Adrian.  The event, held live on-air from 6 a.m. to 6 p.m. raised $47,401.49 for local veterans.  This closely matches the record $48,000 raised the previous year.
WLEN staff, local veterans' organizations and area business people stood curbside outside the station studios and collected funds to support local veterans; these funds are distributed throughout the year to local veterans for assistance with rent, mortgage payments to avoid foreclosure, utility bills, rental facilities to store possessions when they are displaced, transportation stipends and for things as simple as a pair of boots to secure employment.
Since 2006, the stations have raised over $400,000 to help local veterans.
In a release, the station notes that "many people throughout Lenawee County have said over the years that the community is very generous. That is evident during the annual Thank-A-Vet fundraising event at Lenawee Broadcasting Company and Southeast Michigan Media."