WXYZ Launches Day of Giving Telethon with Humane Society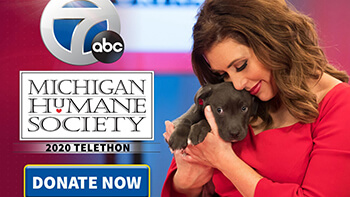 On February 13 and 14, Scripps' WXYZ-TV (Detroit) is presenting the Michigan Humane Society's annual Telethon fundraiser, presented by Purina.  Telethon segments are running both days all day long on the station.
The Telethon plays a major role for the organization and funds raised from the event support MHS programs and services, including cruelty investigation, emergency rescue, owner support programs and humane education. The organization will expand on its Telethon model by offering opportunities to the public to connect with MHS in a different way.
"In years past, the Telethon has been focused on our on-air segments with our partners at WXYZ," says media manager Anna Chrisman, "but we wanted to provide supporters with as many avenues to give as possible."
To that end, the Michigan Humane Society's social media pages (Facebook, Instagram, etc) will feature content all day long and donations can be made right from your smartphone or desktop. In addition, all MHS facilities will have the ability to accept donations so no matter where you are on Telethon day, you have the chance to give a gift.
The Day of Giving Telethon will highlight several impact stories from the past year, the work MHS does and just how far donations can go in support of animals. Appearing in the WXYZ studio will be several groups of puppies who will enjoy time in the Puppy Playpen, sponsored by US Mattress, and also cats and kittens enjoying a luxury cat condo. Live feeds of the pets can be seen on both the MHS and WXYZ social media pages.
Segments will run from 6:00 a.m. on February 13 through midnight on February 14, with content available all day.