CBS Detroit Television Stations Hold Meal-A-Thon for Forgotten Harvest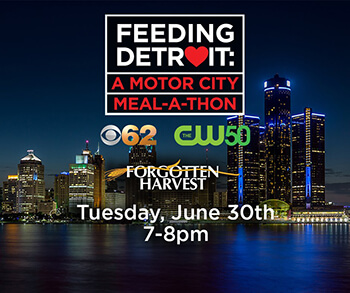 On June 30 and again on July 4, CBS Television's WWJ-TV and WKBD-TV teamed up with Forgotten Harvest to air "Feeding Detroit: A Motor City Meal-A-Thon."  The event aired on both stations June 30 from 7 to 8 p.m. and again on WKBD-TV July 4 from 8 to 9 p.m. The event was also streamed live on CBSDetroit.com and CW50Detroit.com.
Hosted by CW50's Lisa Germani, the fundraiser featured names such as Jay Leno, Lily Tomlin, Mitch Albom, Judge Greg Mathis, Kristin Bell, Tony Hawk, Beth Griffith-Manley, Matthew Stafford, Kris Draper, Darren McCarty and many others.
Kirk Mayes, CEO of Forgotten Harvest, says, "All donations during this virtual event up to $200,000 were matched! Every dollar donated helps feed twice as many people."
"Metro Detroiters have consistently shown we come together and lift each other up during difficult times," said Brian Watson, VP, and General Manager of WWJ/WKBD-TV.